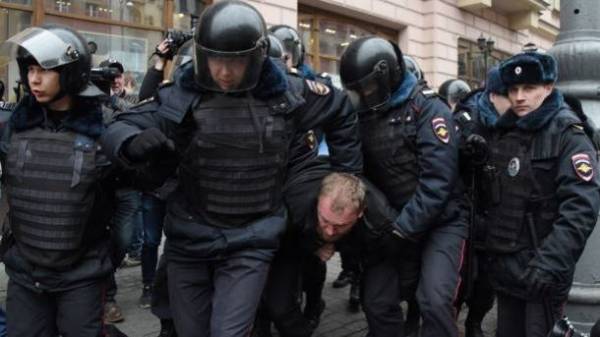 Today in different regions of Russia have been coordinated protests, which passed off relatively peacefully, according to the press service of the interior Ministry.
So, the police said that rallies around the country were not numerous. So, in the Ryazan and Ivanovo was attended by 20 people in Yakutsk – 13 in Barnaul 40 people. Among the most numerous events in Novosibirsk – 400, Samara, 650 people and Astrakhan 250 people.
Militiamen note that in the course of these public events violations of public order is not fixed, is not arrested.
The situation is different in Moscow, where, according to the interior Ministry, the action was not consistent, and for violation of public order near the triumphal square detained 31 people.
In St. Petersburg detained one of the participants in the inconsistent event.
As reported, during the opposition rally in Moscow militiamen have detained more than 40 people, some of whom are also not adults.
Russian human rights activist Oleg Eliseev said that the Moscow authorities were notified of the holding of shares in the capital of Russia, but the police made some arrests of activists.
Comments
comments