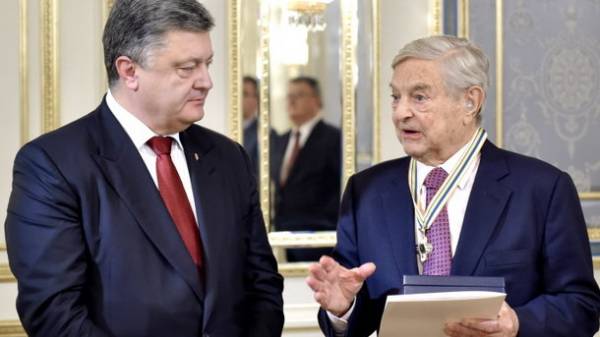 International George Soros Foundation "Renaissance" also criticized amendments to the law of Ukraine "On prevention of corruption", which is obliged to file electronic declarations of the representatives of non-governmental organizations and their contractors, reports ZN.ua.
"The law has caused further erosion of the cooperative spirit between the government and the public, reinforced the fault lines within the political class and society. Besides, for the first time since independence there is a real danger of the degradation of the democratic image of Ukraine in the world",– said in a statement published on the official website of the Fund on Friday, March 31.
The Soros Foundation pointed to the inadequacy of the requirement to file electronic declarations of civil activists who do not have access to state and local budgets, along with civil servants.
In addition, the statement expressed concern that the requirement of filling of declarations counterparties public associations can paralyze the work of the latter. In this regard, Ukraine risks losing support from international organizations.
"Revision of the plans for assistance to Ukraine from international donor organizations supporting anti-corruption efforts in Ukraine, is inevitable and has already begun," warned the Foundation.
At the same time, representatives of "Renaissance" is ready to join the working group, which should revise made to anti-corruption legislation changes. "We are ready to meet the President's willingness to cooperate," said the Fund.
Recall, March 27, the President of Ukraine Petro Poroshenko has signed a law exempting military personnel enlisted and commissioned officers from filing e-returns, which also hobnob the mandatory Declaration of anti-corruption for representatives of public organizations.
At the same time, during a meeting with civil society activists, the President initiated the establishment of a joint working group with the participation of members of public organizations, MPs and representatives of the presidential Administration with the aim of developing a coordinated change in the law regarding the obligation to fill in the electronic Declaration by the representatives of public organizations.
We will remind that on March 23 the Verkhovna Rada introduced amendments to article 3 of the law "On corruption prevention". The presidential bill was supported by 268 people's deputies.
Initially, the bill was aimed at the liberation of the soldiers and Junior officers from filing e-returns. However, during the second reading to the bill introduced significant changes. In particular, the law obliges to provide e-Declaration of the representatives of anti-corruption organizations.
Changes in anti-corruption legislation harshly criticized by the U.S., the EU, the ambassadors of the countries "the Big seven" and international organizations.
Comments
comments