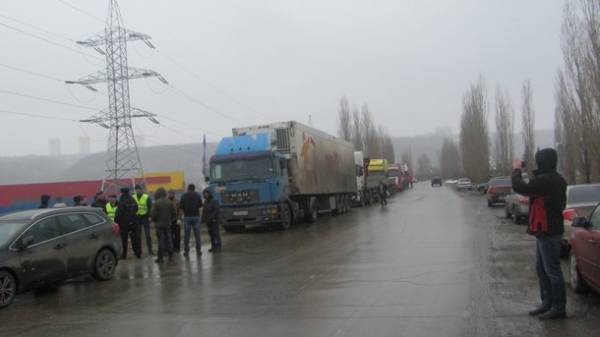 The third day of the ongoing all-Russian indefinite strike of truckers who do not want, from April 15 to pay tolls on Federal highways by the payment system "Platon". The most active were the drivers of Dagestan, where almost no option of delivery of goods, except vehicles.
As told bi-Bi-si the representative of the Association of Dagestani Rustam Almagambetov of truckers in the country to the national strike was joined by 95% of local drivers of heavy vehicles.
"All stand, please, to come to them for dialogue, abolished the system of "Plato". Those who exercise coach and do not have time to return to Dagestan until March 27, join us in Volgograd", — told reporters Almagambetov.
In Saint-Petersburg on the Moscow highway on Tuesday, March 28, there were about 25 trucks on Monday — about 70. "Stand is the only way. The most important thing is that we do not ship and will not carry," explains local activist Sergei Ovchinnikov.
Actually, the Northern capital of Russia and began the strike, which was initiated by based in the city "Association of carriers of Russia" (ODA). On Monday police arrested the head of the ODA Andrew Bautina. It 14 days will hold under arrest for 1.5 years deprived of rights. On Tuesday came the staff of the authorities and police, who tried to take three children Bautina, while his pregnant wife is in the hospital. This was prevented by neighbours.
In Chita in the action involved about 50 vehicles with crews of about 100 people standing along the local Federal highway. "I pay vehicle tax, I pay excise taxes on fuel, and now I'm screwed "Plato". Who is "Plato"? I don't know. He made this track? This track was done by the elderly, our elderly the elderly. Each state receives from the owner a salary. I paid, paid the, paid the other. It turns out, we pay, and we do have…", — said the portal "Zambezia" trucker Eugene Titov.
The strike is held in Ulyanovsk, Nizhny Novgorod, Kostroma and other Russian cities. According to the organizers, it involved 20,000 people in 60 regions.
RESPONSE. According to the Agency "Prime", "Plato" in different regions of the country are growing food prices. For example, 0.5—2% increased prices for milk. After a few hours the article was removed from the Agency website. Other Federal media to actively explain the advantages of the system. The Chairman of the Interbranch expert Council on the development of road freight and road industry of the Russian Federation Boris Rybak told RIA "news" that the system will reveal the facts of gray cargo and contraband. While the Ministry of transport of the Russian Federation announced that for the convenience of drivers "Plato" will be merged with the global navigation system GLONASS. Today, for unknown reasons Vladimir Putin has sent in resignation the head of traffic police of Russia Victor Nilov.
Comments
comments