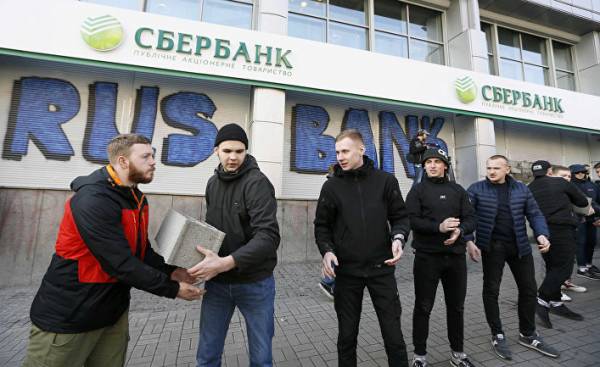 The war has a lot of images. If it is conducted in the banking sector, the Bank branch may close in just one night. It happened recently with the office of the Russian Sberbank, located in the Ukrainian capital. Local nationalists or paid instigators built a wall around the office of the Bank, thus blocking his work.
On Tuesday they were gone. Shortly before it became known that Sberbank, the Russian state Bank, the largest in the country, still found buyers for his "daughter" — Belarusian consortium, owned by the said businessman Gutseriev, and the Latvian Norvik Banka. Whether we are talking about this sale or about the formal change of signs will become clear soon, says a foreign Bank Manager in Ukraine. In the end, a British citizen, he is the son of a Russian oil billionaire Mikhail Gutseriev.
The rebound occurred
Anyway, the savings Bank — the sixth largest Bank in Ukraine — gone. The fact that Russian public banks is desirable from Ukraine, Ukraine explicitly signaled in mid-March. Specifically, they were not allowed to transfer capital to their parent companies abroad.
Thus, the care of Sberbank was only the beginning of a large-scale Exodus of Russian state banks. They are already negotiating the sale, said the Deputy Chairman of the National Bank Ekaterina Rozhkova. Finding buyers is active, confirmed by the market participant. And it happens for some time.
Observers do not exclude that the blockade of the branches is shares with the aim of reducing the cost. Thus, the cost of Ukrainian "daughter" of the second largest Russian Bank VTB in recent years has decreased by $ 50 million, according to the newspaper "Kommersant" last week. Branches of VTB in Kiev were also blocked. In total in Ukraine with the active five banks with Russian state capital, constituting eight percent of the total balance.
Lack of consumer interest, according to the VTB environment. That's just before the conclusion of the transaction does not reach. Foreigners among them, by the way, no.
Lots of overdue loans
The fact that Russian banks want to leave the country, due not only to pressure from the Ukraine. The reason that they are prosperous in economic terms, years, uncontrollably handing out loans. And, paradoxically, because of the involvement of industry in the East they were more affected by the conflict with the separatists. All five Russian state banks in Ukraine have a negative balance.
In the sector as a whole, one third of the loans are deemed uncollectible. At the end of 2016, the country's largest Bank, Privat-Bank, owned by oligarch, was nationalized.
Comments
comments