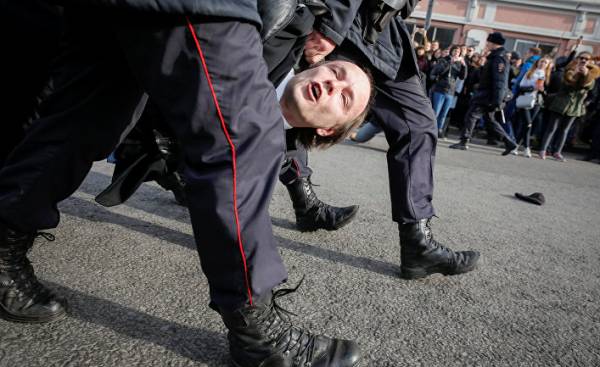 March 26 in Moscow and other major Russian cities held anti-government demonstrations. Only in Moscow the police arrested about a thousand people. Across Russia has been detained more than 1,300 people. In the demonstrations, which called for anti-government leader Alexei Navalny, in Moscow was attended by about 30 thousand people in St. Petersburg — about ten thousand people.
On the backdrop of the presidential elections that will be held in a year, the protest movement in major cities illustrated the growing discontent with Putin's system, which has existed for too long.
The protests began after March 2, the Fund of struggle against corruption Alexei Navalny has published online a video of what the Prime Minister of Russia Dmitry Medvedev hide huge capital. Bulk targeting Prime Minister Medvedev, who was considered a liberal and a reformer in government circles. Experts believe that thereby he expects to strike a blow to Putin's system.
On March 26, demonstrations were held under the slogan of fighting corruption and demanding the resignation of the Prime Minister. The demonstrations in Vladivostok, Novosibirsk and Yekaterinburg in total participated from one thousand to two thousand people.
It is assumed that the entire Russian people took to the streets in 80 cities. In most cities, including Moscow, the authorities have not given permission to hold a demonstration.
Most of the detainees were released on March 27, but there are victims and missing. On the same day the court appointed arrested in Moscow, Navalny 15 days arrest and a fine of 20 thousand rubles for disobeying police.
After 2000 came to power, Vladimir Putin, for the first time during the demonstrations were arrested more than a thousand people. In the period from late 2011 to spring 2012 in Moscow in the protest movement was attended by about 100 thousand people. The current demonstrations have become the second largest after the events of those years.
After 2014, Russia annexed the Crimea, Putin's presidential rating is greater than 80%. However, past demonstrations have shown that the criticism of the authorities, which suppressed the authoritarian system, as well as dissatisfaction with the economic crisis can translate into real protest at every opportunity.
The Fund Navalny published the results of investigations carried out against close Putin. On Twitter, Navalny was signed by 1.83 million people. On 27 Mar, video about corruption suspicions, the Prime Minister looked 12.58 million people. Some members of the Communist party, which is called the Pro-Putin opposition began to demand the authorities to conduct an investigation in respect of suspicions of corruption. There is a possibility that this will lead to the reformatting of the political circles.
Comments
comments