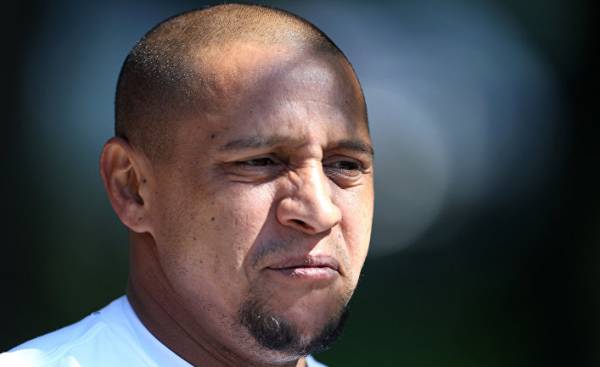 A hammer, of course. Roberto Carlos admits that people remember him primarily due to the impact force of the left foot — "not for beauty." Tribuna Expresso chatted with the former left back of real Madrid during one of the intervals in the Football conference Talks. Roberto Carlos believes that largely contributed to the formation of a new image Brazilian player in Europe, and their best manifestations connection with activities outside the field. And Yes, he would not want to be in the defensive wall during a free kick in their own performance.
Tribuna Expresso: You know that the Football program Talks You listed as "the Legend of FIFA"?

Roberto Carlos: Really? Now FIFA creates a program called "FIFA Legends", which include players become iconic figures in the history of football. Formed a group for this kind of events. For example, FIFA will hold the event in Indonesia and always sends to any of these legends. I think it's great that people have not forgotten what we look like [laughs].
You feel the legend?
I love it when people communicate. And don't consider myself a legend. Just for many years I played football and received pleasure from it. I was awarded many honorable and important titles that I wanted to win when he left Brazil. I wanted to wear the shirt of real Madrid and the Brazilian national team. Become a Champions League winner, Club world Cup, world Cup, winner of the Confederations Cup… So I had a dream and it came true. People call me a legend, but, in my opinion, throughout my career, I was just a serviceable player.
— You like to go to a cafe and then to be recognized?
— It's great. A sign that you did a good job not only on the field but also outside it. I always thought that in life I'm better than on the field.

— How?
Because I was able to share with people my joy and not pretend to be a football celebrity who doesn't talk to anyone. I managed to change the impression people have about Brazilians abroad. At that time it often happened that the Brazilian player went to Spain, Italy or England, one of these countries, worked there one year and left. I wanted to pass your way and show people from other countries that we are professionals. We came to work and to show what we are capable of in football.

— But isn't Brazilian players always associated with joy and a smile on your face?
— Now Yes. But it so happened that the Brazilian going abroad and soon began to yearn for home. This has changed with us already. I, Cafu, Gilberto Silva, Kaka — we could change this trend in their work. Showing courtesy and not taking up anyone's place. We came, worked, had fun, celebrated our victories with others — exactly the impression we wanted to produce.
— In Your opinion, what makes You most memorable to the fans?
Well, "blow"? Here beauty is no! [Laughs]. Rather kick the ball, his strength.
— Such a force in the left foot is congenital or You had a long time to train?
— This skill comes with time. My father also big man, and he has very strong legs, but I always practiced a lot, a lot of shot on target. And thus increasing the force of impact. But we are family. My father is also short and stocky.
I heard You even played with his father.
— I started playing with my father. Woke up at seven in the morning and waited for my father to go play. He wanted me to go with him. When I played in the same team, for me he was seriously afraid, because I was very small. Cost me someone hurt, he indulged in a fight. I started playing in high school, but on Sundays the morning always played in the same team with his father. It put me on the field not in the first and in the second half of the game when others are already tired. I'm always very fast runner, so it was the best time to join the game. If anyone came too close, my father immediately warned: "Quietly, and then not be good."
You would be afraid of falling into a "wall" at the penalty kick in their own performance?
Yes. But I rarely get into the wall. Once it happened in Russia, I knocked down one guy. I still remember the ball hit him right in the stomach, he fell, and I was scared that he died. But for me the barrier has always been like an object on which to beat? Top with one or the other side.

And You invariably took the gate by force. Never tried agility?
— When? With the penalty? I'll tell you what. I have trouble with penalties, which from here to here [spreads hands to show the distance]. But long shots I've always given easier, because I knew that the ball goes into the net. But with a penalty I don't know I have a weak kick or strong, in the centre of the ball going in right or left corner. Never had a starting point.
I remember there was a rumor that Roberto Carlos is boots one or two sizes smaller. Is this true?
— I always played tight shoes, Yes.
Why?
I do not know. It's the same thing that to pick up the ball and rotate the valve itself, believing that in this case will have a different impact. I wore very tight shoes, because I was more comfortable and I thought it will allow me to better hit the ball. More free boots I was not so comfortable.
— You were feet?
— No. I think I broke one of the toes on the right foot because that day I was wearing shoes of a larger size. I awkwardly stepped and himself broke a finger.
— You still think that every left-back in Brazil wants to be like Roberto Carlos?
— I have my own style of play, I also use methods Cafu. Brazil were always four defenders: so if one is attacked on the flank, the other defended [accompanied by an explanation of gestures]. Such are the maneuvers. We played a lot Cafu on the flanks, while coverage was provided by Midfielders. And two defender. We slightly modernized this well-organized side protection. We told them that they were ready when we started with Cafu at the same time to move towards the opponent's goal.

— Yes, but for the same game You had many attacks.
— [Laughing, listening to question] Today the whole world says that liberos per match run 11 kilometers. All this was done in our time.
— Who were more hardy?
— Cafu. He ran a lot and still continues to give. "Exactly" as before.
— You continue to be good friends?
— And how. I'm friends with the whole world. I have great respect for Cafu, he was my captain and a teacher. During the camp we always had a coffee together. And are often found in Sao Paulo.
— Who was your roommate?
— Always Ronaldo. Not Cristiano but Ronaldo! [Laughs again]. We started to train together in 1993. Since then, we always tell the same story: "I slept with Ronaldo more than with his wife." He was at PSV and I'm in the "Palmeiras". In 1995 I started to play for inter Milan in 1997 has passed in "real Madrid", in the world Cup 1998 and the confederations Cup, we are always before the matches spend time together. This went on for as long as the rules changed and each player began to allocate a separate room. 16 years we've slept in the same bed, of course, but in the same room [laughs]
— In your career was the stage when You played at the position extreme in Italy. Is that not confusing?
In Italy I have had problems in the past two months. Roy Hodgson plays me as a striker. I ran a lot and at that time, being the ultimate defender, attacked a lot.
And You didn't come back, right?
— Why? I had a lot of suggestions. He, as an Englishman, used two wingbacks to provide a good defense. He even took me because in Brazil I played a lot on break. I thought there was no need to protect. Italian football has taught me how to play defense. But since I tend to go on the attack and I continued to score, he put the Italian on the position of the extreme defender, and I moved to the center of the field. I continued to score goals. Then he took me off of extreme positions and put in place the attacker. But in Italy at that time, I had only to lift my head up [raises head and looks up, watching over the passing of an imaginary ball]. In the end, there is a problem, because was approaching the America's Cup, and I asked Moratti to let me go. I didn't know what was waiting for me "real Madrid", he just told me that I was interested in a big club.
— It is curious that your first and last season at Real Madrid took place with Italian coach Fabio Capello.
— It was one of the best coaches I have ever worked with.
He's been bothering You?
— No, because he had developed tactics. Panucci was on one side, me on the other. First Secretario, Portuguese. That is, he hedged, Secretario and gave me complete freedom. Then we had Fernando Redondo and Makelele, that is very well done cover. I attacked, made a pass or shot on goal. Capello has greatly facilitated my life that have put them behind me.
It was the trainer from whom You borrowed the most experience?
— The most important teacher I think Wanderlei Luxemburgo. He was very, very corrosive. He taught me how to make sheds, follow tactical constructions, to communicate with team members. Then there was Fabio Capello, Vicente Del Bosque, Guus Hiddink coaches who behaved with me very well. If I start to tell you the whole story, we'd be here until morning. Want? [Laughs again]

No problem. And the confederations Cup in Russia: how do you think he's going to be like?
— Everything will be perfectly wonderful. I lived there for three years and had seen all the stadiums in the design process and in finished form. My house was near the stadium "Spartak", I'm familiar with the stadium in St. Petersburg, saw the layout of the Sochi… This stadiums made at the highest level. Russians don't do things somehow. They're doing so drew attention. So this is something big to attract the attention of the world.

And the Russian fans will be able to fill all the stands?
— They love football. If you take a classic match, "locomotive" — CSKA, the stadium collects up to 45 thousand people. This is the basis for any game of the confederations Cup. The people there are really passionate about football.
What was it like to play there in the cold?
— In Russia is not so cold. When there is snow, sometimes it seems that the street is only minus two degrees. Can be minus forty, and feels only minus five, or something like that. In the summer, for example, there are forty degrees heat. Just fine. If you're going there, do not forget to bring your swimsuit for the beach.
Comments
comments