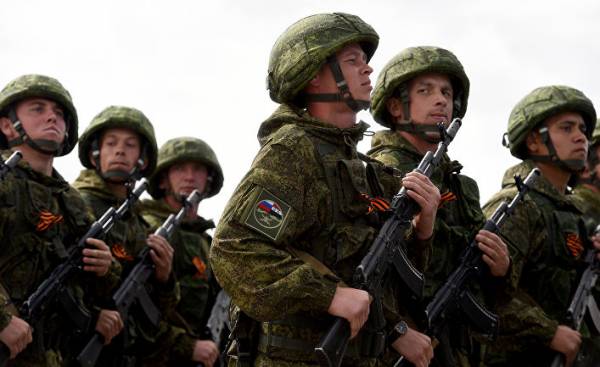 Despite a partial retraction on the part of Russia, Kurdish forces have announced that there is an agreement on the establishment of Russian military bases North of Aleppo, near the Turkish borders, in the city Afrin. A military analyst said that the Russian action "is part of the Russian policy, whose aim is the imposition of a new military reality on the Syrian territories."
On Monday 20 March, the Ministry of defence of the Russian Federation has denied the Kurdish statement, which said that Russia has had its base in a military camp in the village of Kafr Gianna in ' afrīn. Also, it was highlighted that the military operation is a partial transfer of the center for reconciliation of the warring parties in Syria of Hamima in Afrin. It should be emphasized that Russian troops were spotted in the region before talking about this agreement, which, among other things, involves the training of Russia Kurdish military.
General Ahmad Rahal, earlier sided with the Syrian rebels has explained that "Russia is trying to extract maximum benefit for themselves at the expense of Turkey, which is preparing to hold a constitutional referendum. Moreover, the Turkish side faced the consequences of the global crisis, and is still experiencing the changeable and unstable position of the US administration."
Also in his commentary to Arabi 21, he noted that "Turkey will not be able to maintain an irresistible desire to derive maximum benefit and achieve success, as such assistance would lead to conflict with all the other world powers."
Military airport Meng
On the other hand, General Ahmad Rahal did not rule out Russia's seizure of the military airport Meng under the control of the Kurdish people's protection Units, with the goal of deployment of helicopters to the North of Aleppo.
He said: "the Airport is an important strategic target, because it is located close to Turkish territories. This plan is quite symbolic".
In addition, he added: "Russia may expand the airport and build a runway that will allow you to use in combat fighter planes. The Russian side is in a hurry were able to fully equip a military airport Mamima, which originally had only one runway".
General Ahmad Rahal believes that there is a connection between the airport Manag to its operation and the withdrawal of Syrian democratic forces of Manuja, which represent the basis of the Kurdish people's protection Units. He explained that "recently, there were rumors and talk of a possible exchange Manuja under the control of the Turkish "Shield of the Euphrates", city North of Aleppo, Syria. Tel-Rifat airport Meng and several cities around it are controlled by Kurdish troops.
He also hinted that Russia wants to send a "calming letter" to his Iranian ally by suggestion the idea about the preparation of the airport. The General said: "the Airport is in the vicinity of such Shiite cities in the North of Aleppo, as Nubbol and Zahraa, which is why it plays an important role in ensuring their protection even in case of withdrawal of Iranian troops from Syria."
Comments
comments