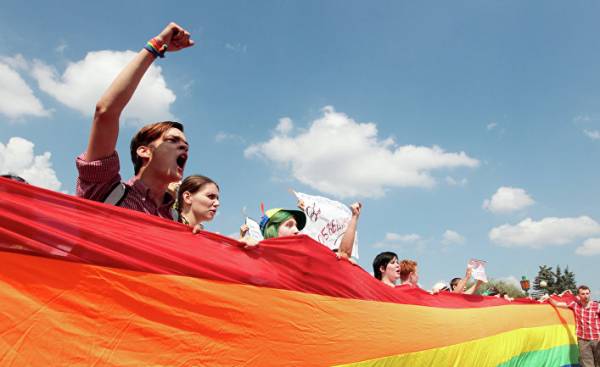 Today, many Russian homosexuals prefer to go underground. But the LGBT community should be more visible, activists say. The study shows that the ratio improves when people are introduced to the "living person" gay.
Here in Russia, often do not know what may be lurking behind the most ordinary door.
In a large high-rise building on Ligovsky Prospekt in Central St. Petersburg has found a shelter a few different civil organizations.
We're going up the Elevator that moves in spurts, then make their way down the long corridors past the ranks of the unsigned doors, until you come in closely crowded office space, and squeezed between the furniture, suddenly found themselves in a large bright room with a rainbow flag on the wall.
Here there are pictures signed by Tom of Finland, colorful flags and soft toys, as well as a large shelf with informational materials in full color printing everything from "coming out" to the issues of LGBT parenting.
We were invited for tea to Pauline, working in the group Coming Out.
"One day I was in Copenhagen," she says, " about that has been adopted in Finland, the law on equal marriage. Then I noticed what felt like something different — like a completely normal, ordinary people, part of society.
It's unbelievable to have all the same rights as heterosexual people. You don't understand unless you experience for yourself, and I sincerely hope that one day it will become a reality in Russia!"
But that day may come very soon.
Since 2013, Russia has a law that prohibits homosexual propaganda aimed at children.
The law itself is worded vaguely so that it is not always easy to understand what is regarded as homosexual propaganda.
For example, about the new disney movie "beauty and the beast" Russian Ministry of culture initiated the investigation. It held a special working group to find out whether the homosexual propaganda film, and all because one of the characters homosexual.
The Ministry decided that the propaganda is not there, but the age limit for screening was raised to 16 years.
This may seem comical, but for LGBT people, this law has serious consequences. Many people prefer to hide.
Gays out
"If I hold my friend's hand on the street and pass by a parent with a child, theoretically, the mother could call the police, claiming that we promote homosexuality, says Pauline. — Then we will have problems. This is a very bad law that claims to be gay is something wrong and we are bad for children."
According to Pauline, the law legalizes aggression and violence against gays. The one who was attacked or abused, can not count on help from the authorities or protection.
In St. Petersburg, for example, there is one activist male who does not like gays.
It collects information about the LGBT community, for example, spying on the people in your social networks.
He then reports their sexual orientation to their employer.
"We recently filed a lawsuit in the European court of human rights, because she failed to achieve some justice here," says Pauline.
It is a very talented music teacher, the woman who taught children with special needs. She posted a photo where he was with his girlfriend, in Russian analog of Facebook — Vkontakte.
Mentioned homophobic "gossiped" about her employer, and all your favorite the teacher was fired.
A growing number of crimes motivated by hatred of the LGBT community comes in a retaliatory attack
"Crimes motivated by hatred and aggression against gays is growing," continues Pauline.
As much as 15% of LGBT people had experienced physical violence because of their orientation.
At the same time, groups like Coming Out now is much better organized than before.
"In fact, we now have in St. Petersburg is an incredible situation. We have a hub, a well-functioning network, the different groups help each other, we have a lot of volunteers and 30% of participants in our events are usually heterosexual".
Glad to be a foreign agent
On the floor below, another door sits unsigned Igor Kochetkov, head of the Russian network of LGBT community. He agreed with Pauline.
"The situation is better than, for example, ten years ago. We are better organized and operate across Russia and in the regions too.
The LGBT community is one of the most viable civil movements in Russia. We are actively working in other areas, especially in the field of human rights, which collected extensive material, as well as in the field of ecology. We are engaged in opposition activities".
Svenska Yle: are you qualified as a foreign agent?
"Of course — laughs Igor Kochetkov, And we are very proud that we have made to this list. We believe, thus, the state proved that we're doing a good job, once earned, so to speak, a mark of distinction".
Petersburgers Express their opinions
On the bench sitting in the Catherine Park of Turkmen women Jennet Alimukhamedova and Wuss Kazimova.
They say that a neutral attitude towards homosexuals.
They have a good gay friend, a nice young man, with whom pleasant to communicate.
"You can't ban homosexuality, it always existed. Equal marriage may well exist, but in Russia now, it's bad, says Wuss Kazimova — But maybe in 30 years?"
Lyudmila Churina, whose three sons, has a negative attitude towards homosexuals.
"I'm for traditional family in which a woman bears children, she says, a little embarrassed, I don't understand this, when two men or two women live together."
Alexander Storozhik and Irina Filippova walk under the arm.
"I'm at that age when are more attached to traditions, — Alexander laughs Storozhik, Although if I, for example, was a homosexual colleague who was doing so well would work, I would behave with him the same as everyone else. But to get to know I wouldn't, I would have thought it was inconvenient."
In the same Park sitting Darya Dunaeva and Artem Nechaev.
"I have nothing to say about gays," says Artem.
"And I have a lot of friends — says Daria, They are wonderful people!"
Head pulled the two-headed eagle each way
Russian society and Russian state power are developing in different directions, according to Igor Kochetkov.
When 25 years ago the Soviet Union collapsed, civil society quickly became more complicated.
Have the opportunity to talk about things that were previously ignored, people began to travel abroad and learn foreign languages.
Today, many Russians traveled the world and pretty well know languages, many actively follow the news from the US and Europe on the Internet.
"Society has become a complex, — said Kochetkov, — It is no longer a monolithic and homogeneous, as in Soviet times. But those who ruled the country, still adhere to the Soviet political culture."
"If anything, we learned, it is that civil society can function without a state," he continues.
Only the LGBT movement to inform people, provide legal or psychological assistance, creates a network and gives education professionals on LGBT issues.
"In fact, we are the most law-abiding citizens, which only can imagine — continues Igor Kochetkov. — We believe that the freedom of each person is the highest value, exactly as it is written in the Russian Constitution. Unfortunately, we cannot say that political power always acts according to this principle.
You cannot relax in the belief that there is a state that will always help and care about you and your welfare.
It should not be, but no one is punished for the fact that the development goes in the opposite direction. In the end, everything will depend on our own efforts".
Most important thing is to make sure that the LGBT community was visible, activists say. Studies show that the ratio improves when people are introduced to the "living person" gay.
"It is important to have a discussion. For many this is a difficult question, for example, for religious reasons," — said Kochetkov.
But it's good that it exists in the public space that there is a public discussion, during which it is possible to listen to LGBT people, and homophobia and to think people will do.
Comments
comments