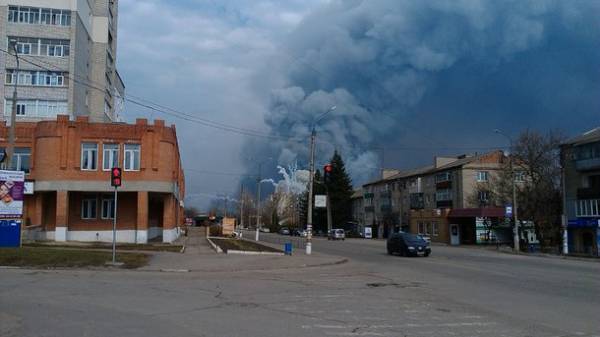 Today it is planned to eliminate the two last the source of corruption in military warehouses in balakliia. This was announced by the Deputy Minister of defence of Ukraine Igor Pavlovsky.
"The intensity of the explosions on the technical area continues to decline, this night recorded a single detonation of ammunition. After completion of the work firefighters conduct engineering reconnaissance," – said Pavlovsky.
According to him, military engineers continue to clear the area from explosive objects.
We will remind, in the night of Thursday, March 23, in Balakleya (Kharkiv oblast) on one of the largest in Ukraine ammunition depot explosion, followed by fire and a chain detonation of ammunition.
Defense Minister Stepan Poltorak said that according to available preliminary findings of the cause of the fire and explosions of ammunition in warehouses was a diversion. "One theory is that it is a diversion. In particular, the dropping of the explosive device with UAVs," said Poltorak.
Later , SBU qualified state of emergency in Balakleya as a diversion.
Deputy Minister of defence of Ukraine Igor Pavlovsky Friday, March 24, reported the complete elimination of fire in artillery warehouses.
Comments
comments