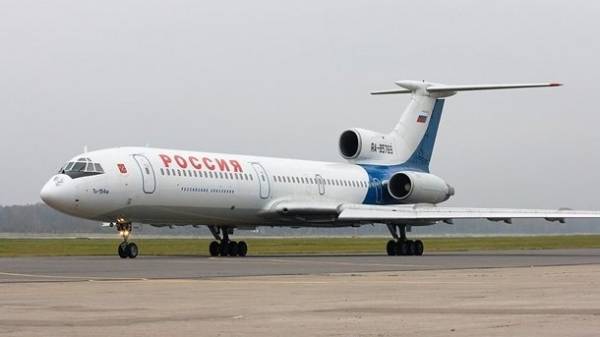 The pilot of the plane Tu-154 crashed into the Black sea near Sochi, Russia, lost orientation after take-off, and instead of readings is guided by its illusory sensations, writes Kommersant with reference to the version involved in the investigation of the crash.
It is noted that, according to experts, only an illusory perception of reality could get an experienced pilot to guide a car into a deadly peak with a roll of 55 degrees.
The newspaper reminds that in about 60 seconds after take off Tu-154 was moving at normal speed and started the planned right turn, but the main driver Roman Volkov, instead of continuing the climb, suddenly sent it into a nosedive.
Such as pilot participants in the investigation, explain the specifics of the night's departure. After a few seconds after separation from the well-lit runway in Adler and intersections illuminated the shoreline "you get like a black hole", say the experts. In this situation, the pilot could be "in the power of illusions", that did not allow him to properly assess the aircraft position in space.
As confirmation of his words, supporters of this version cause the graphics of the pitch and roll of the Tu-154 in the last seconds of flight – they have a "wobble" form. Investigators believe that the pilot was constantly changing position of the aircraft due to the teams of his vestibular apparatus.
However, some military experts explained the changes in a malfunction of the registration system parameters.
Despite the conflicting opinions involved in the investigation, they all agree on one thing − to explain the landing a serviceable aircraft under the control of an experienced military pilot anything other than a loss of orientation in space, will be extremely difficult.
Earlier it was reported that according to the experts the crashed Tu-154 landed on the water in controlled flight under the control of the commander of the crew.
We will remind, the airplane of the military Department of the Russian Federation Tu-154 crashed on Christmas day, December 25 after taking off from Sochi. On Board were 92 people. The plane also flew 65 people from the military song and dance ensemble Alexandrov (better known as "red army Choir"). This is almost the entire choir of the team, with the exception of three soloists, which was not on Board. Military artists had to give a Christmas concert for the Russian occupying forces in Syria. Also the plane was nine journalists of TV channels banned in Ukraine, and a member of the Council under the President of Russia Elizabeth Glinka, known for the cooperation with the Russian army.
Comments
comments