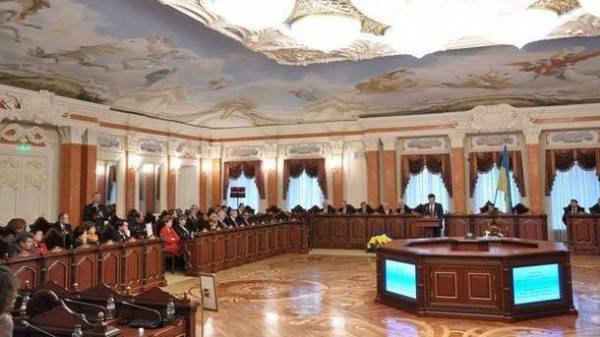 The high Council of justice adopted the recommendations to the President of Ukraine on the part of judges in the new Supreme court of Ukraine (AFU), the press service of the Council.
It is reported that Petro Poroshenko will be submitted to the approval of the 111 candidates in the Mat 120.
Indicates that among not included in the list of the nine judges were the following decisions: Vladimir and Tatiana Matuhina Smart were all denied, and Alexandra Yanovskaya, Valentina Simonenko, Olga Stupak, Sergey Pogrebnoy, Vadim Korotun, Victoria Macedonski and Tatiana Sagittarius decision is still pending.
It should be noted in the list found unexpected candidates Vyacheslav Adapter and Sergey Linko, which in 2013 sent the current Prosecutor General Yury Lutsenko to prison.
SEE ALSO
The U.S. Embassy doubted the integrity of some candidates to the Supreme court of Ukraine
So, the journalist Eugene Motorista wrote on his page on Facebook: welcome! The owners of black robes Slinko and Zastawny who judged Lutsenko, "updated" Supreme Court. It turns out, the High Council of justice believes that the current attorney General has been convicted legally, and its judges – crystal clear professionals."

In the same spirit spoke and the head of the Department of advocacy in the organization "intensive care reform package" Vadim City in Facebook: "It's just a schizophrenic or something! The judges who judged Yuriy Lutsenko, Vyacheslav Nastaveny and Sergey Slin'ko – held in the new Supreme court."

Recall that 3 APR 2013 at that time, the judge of Pechersky district court of Kiev Sergey Linko read out the decision, according to which the ex-interior Minister Yuriy Lutsenko was sentenced to 4 years in prison for "abuse of power".
Comments
comments