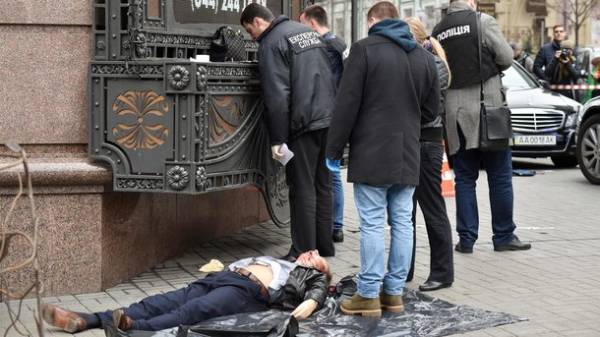 Today in broad daylight in the center of Kiev shot the former Deputy of the state Duma of the Russian Federation Denis Boronenkov, who previously testified in the case of Viktor Yanukovych.
The killer released his victim with four bullets, was shot dead by a security guard of the Russian ex-Deputy.
The cold-blooded murder in the heart of the capital has shocked Ukrainians. Some politicians and experts on the pages in Facebook shared their opinions about the causes and consequences of this resonant crime.
Vbivstva Boronenkov Kremlin Hoca poperegay vsih rosiyan: price for freedom is death.
— Volodymyr Ariev (@VolodymyrAriev) 23 Mar 2017
Bloggers and ordinary users of social networks also spoke about the murder Boronenkov reminded that exactly 4 years ago was killed by another "enemy of Putin" Boris Berezovsky.
And exactly 4 years ago killed Berezovsky. Midget loves symbolism. pic.twitter.com/cE6XtSQT2n
— Poweska Ukraine (@i_army_org) 23 Mar 2017
Nemtsov murdered near Kremlin.
Lesin – scored with the bat in a hotel near the White house (Washington).
Boronenkov – bullet in the center of Kiev.
Guess killers.
— Sarcastic news (@_U_R_I_c) 23 Mar 2017
It was so obvious pic.twitter.com/tLsf1Jr7U1
— Edmond Dantes™ (@deMonte_Cristo) 23 Mar 2017
A source in the Kremlin: the most difficult was to persuade Vladimir Putin to remove Boronenkov a nuclear strike on Kiev.
— Uncle Shu (@Shulz) 23 Mar 2017
The message of RIA-news of the death of Boronenkov seriously ahead of other news agencies: pic.twitter.com/t1Gii5k8yP
— Perzident Roissi (@KermlinRussia) on 23 March 2017
The CIA may be involved in the murder of D. Boronenkov in Kiev – Gennady Zyuganov.
Communist grandpa really bad. Forgot to mention Mossad.
— Vladimir Varfolomeev (@Varfolomeev) 23 Mar 2017
Pleased with the logic of Russia: Boronenkov killed on the territory of Ukraine, then Ukraine's fault. Nothing like?
Hint: #MH17
— Uncle Shu (@Shulz) 23 Mar 2017
Churcn that Boronenkov Ob do right about "sheet Yanukovych" s prajanam to enter rosiyski viyska in Ukraine. Obidva Mart.
— Poweska Ukraine (@i_army_org) 23 Mar 2017
As reported today in Kiev in the shooting death of a former member of the Russian state Duma Denis Voronenkov, who took Ukrainian citizenship and testified against fugitive President Viktor Yanukovych.
It is known that the killer Boronenkov was arrested as a result of injuries after a shooting.
It is noteworthy that Voronenkov died on the anniversary of the death of former Russian oligarch Boris Berezovsky. President Petro Poroshenko called the killing of Boronenkov act of state terrorism by Russia.
Comments
comments