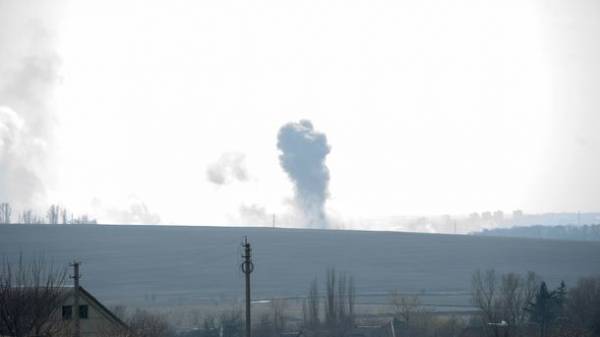 The intensity of explosions in warehouses of the Ministry of defense of Ukraine Balakleya (Kharkiv region) in the evening has decreased, and this allows you to start the localization of the fire. This reports the press service of the defense Ministry.
"According to the representative of the General staff of the Armed forces of Ukraine, as of 18.00 the intensity of the explosions decreased, which enables to assess the scale of the event and prepare to proceed to the localization of the events", – the press service of the defense Ministry.
As stated by the head of Department morally-psychological security of Ukraine Oleg Gruntkowski, the soldiers coordinate their actions with other security agencies and local authorities, which helped to minimize the effects of explosions.
The evacuation of military members and their families living in service flats on the territory of military unit, was organized, and in a short time.
Also, the military helped with transportation of local residents from homes that are in the danger zone.
In the morning Balakleya and the surrounding towns patrolled by more than 100 Kharkiv military zone Department of Military service of law and order Mat – they help the police in ensuring law and order.
We will remind, in the night of Thursday, March 23, there were explosions at munitions depots, located not far from the city of Balakleya of Kharkov region, lit up the military base. The first information about the incident arrived about 3 o'clock in the morning. Explosions in the warehouses continued in the morning of March 23.
From the area Blakley already evacuated 20 thousand people.
Defense Minister Stepan Poltorak earlier said that according to available preliminary findings of the cause of the fire and explosions of ammunition in warehouses was a diversion. "One theory is that it is a diversion. In particular, the dropping of the explosive device with UAVs," said Poltorak. Later , SBU qualified state of emergency in Balakleya as a diversion.
The entrance to the city closed, passenger railway communication is also stopped. The explosion closed the airspace in the 40-kilometer zone for all aircraft.
Comments
comments