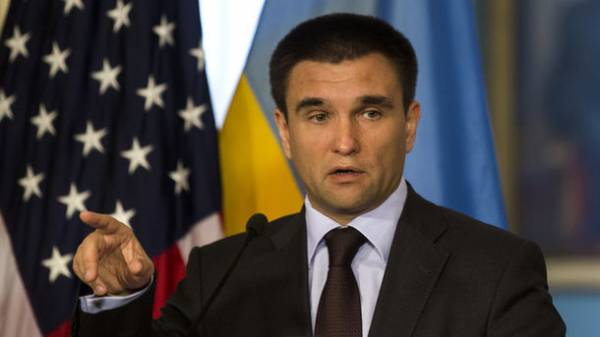 Meeting of President of Ukraine Petro Poroshenko and the President of the United States Donald trump is in a state of serious training, said the foreign Minister of Ukraine Pavlo Klimkin. Answering the question of why announced quite a while ago the President's visit is postponed, the Minister replied: "No, he is not delayed. Just should be the content and logic of the arrangements. In addition, on a number of issues the us administration is in a state of formation. And what is happening today deserves not a superficial approach, but a very sensitive and deep consideration. Therefore, this meeting must be well prepared".
Pavlo Klimkin said this in an interview LIGA.net.
The Minister recalled his visit to the US, in which we held meetings in the state Department and the NSC. He noted that key agencies have not implemented all of the assignments.
"When we were ready – we will work on details of a personal meeting of the two presidents," – said Klimkin.
In addition, the Minister noted that the President has already talked twice with Trampon the phone. The first conversation of the President was both congratulatory and informative. But the second conversation was really deep in meaning. Trump was prepared. He's not some abstracts were read, from which it has been prepared by the assistants. It was a lively conversation, he was asked, listened attentively. It was important," – said Klimkin.
Also, according to him, had a meeting with the Vice-President of the United States. "We're really at a very granular level serious talk. I mean, I think that the question is not a formal date, and depth contacts. Now we come to the opportunity to meet with the most meaningful and real returns", – concluded the Minister of foreign Affairs of Ukraine.
Comments
comments