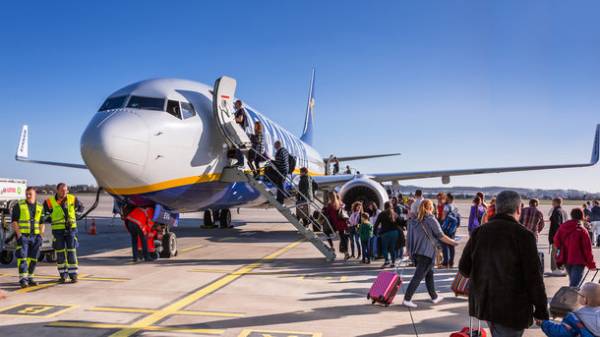 Ukraine in 2016 in passenger traffic ahead of the peak 2013. In the SAS note, Ukraine's air passenger market has resumed. Although, in 2013 Ukraine flew 56 foreign air carriers, and 33 Ukrainian, and in 2016 – 28 foreign and 19 domestic companies. At the end of 2017 in the country will include Irish low-cost airline Ryanair, and the airline Wizz Air announced the extension of cheap routes from Kiev and Lviv. Where in 2017 you can fly from Ukraine abroad and how many recognize the site "Today".
Where you can fly from Ukraine for less than 1500 UAH
From Ukraine currently fly two low cost Hungarian Wizz Air and Turkish "Pegasus". The price of the tickets ranges from 1500 hryvnia per one way. In October, the market plans to visit another company – Ryanair. In addition, cheap tickets can be found on the website of the air carrier Ukraine International airlines (UIA).
Wizz Air flies from Kiev and Lviv in 21 cities of Europe. The airline announced the expansion of its network of flights from Lviv to Berlin (Germany) and from Kiev to Poznan and Lublin (Poland) with the cost of tickets from 719 UAH from Kiev to the airport Frankfurt-Hahn (Germany) with the cost of tickets from 743 USD.
From the Ukrainian capital, the airline also flies to Copenhagen (Denmark) – the cost of a ticket from 1447 UAH in Vilnius (Lithuania) – from 847 UAH in the German city of Hamburg – from 1207 UAH, Hanover – 1447 UAH Cologne – from 967 USD, Memmingen – 1447 UAH, nürnberg – 1447 UAH. In London (UK) the cost of tickets starts from 847 UAH in Warsaw (Poland) – from UAH 687, Budapest (Hungary) – from 847 UAH, Bratislava (Slovakia) – from 847 UAH. From Lviv, you can fly to Wroclaw from 391 UAH.
"Pegasus" flies out of Ukraine only in Ankara and Istanbul. So, from Kiev to Istanbul you can fly over 760 UAH, from Kiev to the capital of Turkey – 1080 UAH. Turkish airports are relatively cheap you can fly, for example, in Sharm El-Sheikh (Egypt) – 1263 hryvnia, or in tel Aviv (Israel) – from 460 UAH.
From 29 October, European cities begun to run Ryanair. So to London from Kiev you can fly from 675 hryvnias, in Stockholm (Sweden) – from 945 USD, Manchester (UK) – 675 UAH, Eindhoven (Netherlands) – 540 UAH. From Lobova in Berlin Memmingen, Budapest, Krakow and Warsaw – from 540 UAH. Also 1250 UAH you can fly from Kiev to Athens, the Greek airline Aegean.
If monitor prices MAU, you can also find a cheap ticket. For example, from Lviv to Vilnius in November 2017 you can get there in 351 UAH. Find the cheapest airline tickets is six months prior to departure – aviaperevochika sell cheaper tickets at a later date to have the turnover of more funds. Also the cost of the ticket depends on the season – usually during the summer holidays, Christmas holidays and the tickets more expensive.
From Ukraine are sent to other low-cost airlines: Air Arabia, Fly Dubai, Air Baltic, Vueling, but the prices for the tickets they start from 3000-6000 UAH because of the large distances.
Comments
comments