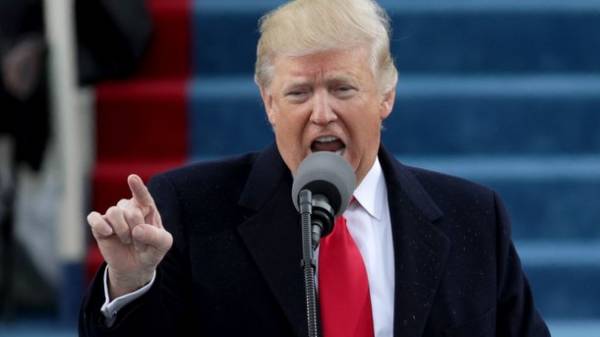 The US President Donald trump called on the U.S. Congress and the Federal Bureau of investigation to investigate the leaks of confidential information, not reports of his alleged collusion with Russia, which he described as a fake.
He wrote about this in several posts on Twitter.
"James Clapper (former Director of National intelligence of the USA – approx. ed) and others said that there is no evidence that the US President had conspired with Russia. This is fake news, and everyone knows it!", – wrote trump.
James Clapper and others stated that there is no evidence Potus colluded with Russia. This story is FAKE NEWS and everyone knows it!
— Donald J. Trump (@realDonaldTrump) March 20, 2017
In his opinion, "Russian history" was invented and promoted by the representatives of the US Democratic party as an excuse for their failure, according to trump, campaign.
The Democrats made up and pushed the Russian story as an excuse for running a terrible campaign. Big advantage in Electoral College & lost!
— Donald J. Trump (@realDonaldTrump) March 20, 2017
The US President also urged to immediately find those responsible for the leak of confidential information.
The real story is that Congress, the FBI and all others should be looking into is the leaking of Classified information. Must find leaker now!
— Donald J. Trump (@realDonaldTrump) March 20, 2017
Recall, the intelligence Committee of the house of representatives of the Congress of the United States has no "evidence of conspiracy" of the electoral headquarters of Donald trump with the Kremlin, said the head of the Committee, Republican Devin Nunes.
At the end of last year, American intelligence agencies have concluded that Moscow carried out a campaign with the purpose of influencing the results of the presidential elections in the United States to thwart the democratic process and to ruin the reputation of the Democratic candidate Hillary Clinton.
Trump in January, acknowledged that a cyberattack on the servers of the Democratic party was made by the Russians.
Michael Flynn resigned as adviser to the President of the United States national security. A message about Flynn's resignation came after, as the Washington Post and the Associated Press Agency (AP) reported that the U.S. justice Department issued a warning to the White house that Flynn put himself in a compromising position because of the contact with the Russian Ambassador to the United States.
White house spokesman Sean Spicer said that trump would not "reveal its hand" on the plans for the development of relations with Russia.
Comments
comments