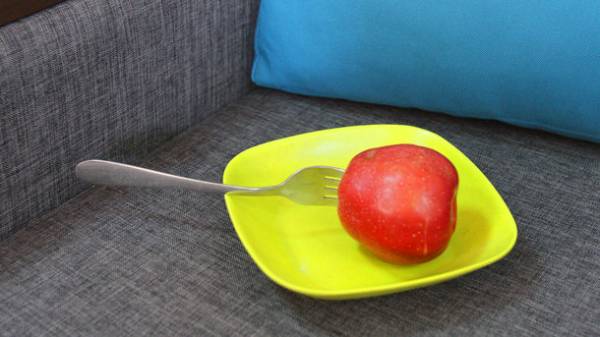 "What, when and how much to eat" there is a lot of information. Some nutritionists, for example, forbid dieters eat after six, others stand up for dinner, because it allows our metabolism to work to its fullest. Someone completely expunged from the diet fats, and someone comes up with the whole diet, the basis of which they make up. Professor at Cornell University Brian Wansink decided to approach the study of "edible" question-scientific to put in the basis of its findings the data without any subjective RAID. Together with his assistants he analyzed the receipts in restaurants, studied the behavior of people in institutions of the buffet held all sorts of experiences, for example, gave the participants a "bottomless" plates, through which the tube is continuously filled with soup. His observations formed the basis for the book "Mindless eating".
We read it and chose the most interesting information that will help those who want to get rid of fat ballast, without doing any effort and diets. To do this, just stop eating on the service and also paying attention to what and who surrounds you while eating.
DARKNESS — THE BEST FRIEND OF EXCESS WEIGHT
I shoveled a lot of restaurant checks, Brian Wansink came to the conclusion that in rooms with subdued light visitors consume 39% more calories. In addition, those who choose a secluded dark corners, on 73% more likely to order dessert than those who sit near Windows.
DISGUISE FOR SUGARY
At the reception, whether it's office or private clinic, decided to put the "gift" of candy in vases. Interviewing secretaries who have all day to spend next to this temptation, the scientist learned that a great danger for the figure are transparent containers. Of them of sweets eaten by 71% more than, for example, from an opaque ceramic vases. And this is 77 extra calories per day, which over the year can result in a couple of extra pounds. So, since I can't live without dessert, first, don't put it in a prominent place: on the machine you will be constantly "kusochnichat". And secondly, put it in opaque containers: as the saying goes, out of sight, out of mind. Let the best in your field of vision gets a carrot: it is low in calories, useful and, most importantly, satisfies the chewing reflex.
DO NOT RUSH WITH THE CHANGE OF PLATES
In good restaurants the waiters try as often as possible to change the plates, not even knowing that indirectly affect their appetite. The indefatigable Professor in the course of another experiment saw that people absorb a lot more chicken wings if the bones were immediately removed. When they slide stood on the plates, how would semaforul consumers: "Stop! Look how much you've eaten!"
SIT WITH HIS BACK TO THE COUNTER WITH FOOD
Institutions with a system of food "buffet" was a great training ground for professors ' research. After many hours, he came to very interesting conclusions. First, slim people almost five metres farther than a full, sit down from the stands to the food. Second, sit back on them. Thirdly, before you put something on a plate, they conduct reconnaissance — scrutinize the entire range. Fat people do everything exactly the opposite.
THE MORE STUFF, THE STRONGER THE APPETITE
The following experiment was attended by 98 people. Half were asked to wait in cluttered kitchens, half — neat, no unnecessary items on the tables. But there, and there placed the bowl of crackers. And it turned out that in the kitchen-dumps the participants ate twice as many cookies than where it was removed. So, gentlemen, dieters often remove the house. This will affect you on a physical level (while cleaning calories burned well), and subconscious.
THE EFFECT OF CONTRAST: RED ON WHITE
Choose for a variety of contrasting dishes. For example, those who were served the pasta on white plates ate 18% more than those to whom it was offered, for example, red. But for the piece of steak is better suited white dish.
HARMONY LOVES SOLITUDE
During a friendly feast, we, as they say, can eat nearly two to three times more than during the meal in splendid isolation. But if food is served the waiters full — down the drain: they bought more high-calorie food than lean counterparts. The same effect as the company has and TV: combining a film screening and dinner, we let go of the brake and ready to eat everything that comes
arm.
Comments
comments