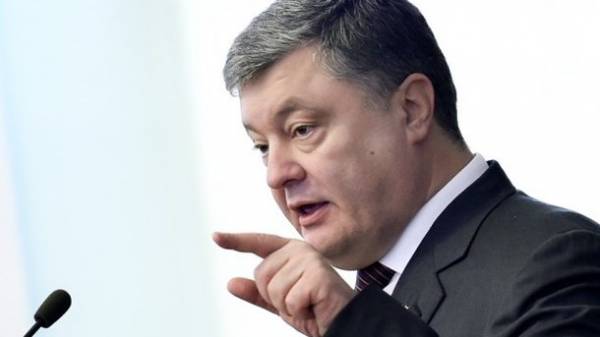 The reason of postponing the allocation of the next tranche of the IMF loan was the consequences of the blockade of Donbass.
This was stated by the President Petro Poroshenko during his speech at the meeting of the regional development Council in Kyiv on Monday, said his press Secretary Svyatoslav Tsigalko on the page in Facebook.
"Today, the IMF was to allocate the next tranche, one billion dollars, which is necessary for the further replenishment of gold reserves to keep the stability of the hryvnia, for a positive signal to investors. Because they – the investors – are considering lending from the Fund as a credible and responsible recommendation to invest in this country, to develop production and create jobs. We did a great job, convinced the Foundation that our version of pension reform would not involve raising the retirement age. Received a positive assessment of the conducted economic reforms. And on Saturday, the question on Ukraine disappeared from today's agenda of the Board of Directors. This is the influence of those political risks, the danger of which I now speak. The reason for the deferral is effects of the embargo," – quoted Tsigalko the President's words.
The head of state assured that he would not give up and will continue to work to ensure that in the near future, Ukraine received a tranche of the IMF loan.
"My day began with a meeting on the issue, and right with her I came to you. One of its members, by the way, offered to send to Washington as special representative of Ukraine Andrey Ivanovich (the mayor of Lviv Andriy Sadovy -approx. ed) with Semenchenko and Yulia Tymoshenko (Yulia Tymoshenko – ed. ed) Parasyuk. If "Self" organized and patronized the blockade, then let it be and corrected the consequences of the sabotage. Of course, the offer was a joke, and its author was put on appearance, because in this situation, not joking. And I as the President must answer not only for their mistakes, but for other people," gave Tsegolko Poroshenko's words.
We will remind, about two months, activists with the participation of several deputies had blocked the supply of coal from ORDA on Kiev-controlled territory. In early March the militants of the so-called "DNR/LNR" entered external management at all enterprises of the Ukrainian jurisdiction in the occupied territories of Donbass.
Poroshenko said that for the negative consequences of the embargo will pay not only leaders of DPR/LPR, but also the political forces which claimed responsibility for the siege: "Batkivschyna" and "Samopomich".
The March 15 meeting of the national security Council the President of Ukraine Petro Poroshenko decided to temporarily completely stop transport – automobile and railway – from the occupied territories of Donbass.
After that , the Council supported the proposal of the President in connection with the seizure of the Ukrainian enterprises and the deterioration of the situation in the zone of the military operation in the Donbass.
Comments
comments