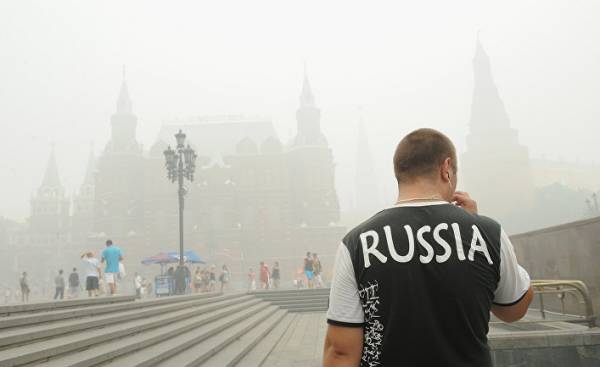 In terms of overall quality of life Russia is below all large developing countries.
Of course, in Moscow there is the Bolshoi theatre and Red square are impeccable with luxurious shops Cum. And Yes, unlike new York, San Paulo and Mumbai, nobody asks you for food or change on every corner. But when it comes to overall quality of life, Russia is below all large developing countries. Even Mexico corruption and drug lords to the bottom.
According to the Numbeo system that determines the cost of living, the main problem of Russia is the weather; the Moscow movement, in comparison with which the 405 in Los Angeles and the Marginal in são Paulo seem calm; the outrageous real estate prices in the city centre and the pollution of the environment. Maybe Russia and is known for its culture, great world class museums and one of the most charming cities in the world, Saint-Petersburg, but her overall quality of life is 86,27, it is on par with the cultural competitors in Ukraine.
In Moscow per capita have more billionaires than any other city. And although most of them are in fact often live in London, often you can still hear the roar of the McLaren, which marks their territory on Krasnopresnenskaya embankment along the Moscow river. Real estate there is expensive, but according to Numbeo, is not such expensive as in Shanghai. The price per square meter in the center of Moscow 59.3% cheaper than in Shanghai. Rent an apartment in Moscow, in the city center, desalina 25%.
This high cost of housing in China combined with a huge problem of pollution has left most of the BRICS countries behind Russia.
Among the four major emerging markets, India ranks first due to the low cost of goods and services, including housing costs as a percentage of average income.
And there's still Brazil. Brazilians like to complain that every thing is worth a fortune, especially in Sao Paulo and Rio de Janeiro. The city of são Paulo is significantly below the average living wage in Brazil is equal to 94,29 due to crime, pollution, traffic and housing. The rate of the city is 59. It is extremely bad.
Oddly enough, despite the fact that Brazil is one of the most productive agricultural States in the world, bananas in são Paulo are 30% more expensive than in Moscow; eggs — 58% more expensive than in Moscow; the bread is 163% more expensive. According to Numbeo, even water (+ 18.4%) and domestic beer (53,39%) in Sao Paulo more expensive than in Moscow.
Nevertheless, thanks to good weather and relatively low cost of living across the country in Brazil live better than in Russia.
The study of quality of life studies Numbeo cost of living, purchasing power, quality of housing, air quality, crime, health and travel time to work. Users can compare cities to each other from the point of view of cost on a number of consumer issues and also accounts for housing and electricity.
Americans vs Russians
Quality of life Numbeo is from 0 to 200. The higher the number, the better. In this regard, the US is 180,02 in General. The top five cities with nearly perfect scores San Diego (197,7), Dallas (191,8), Columbus (190,6), San Jose (190) and Portland (187,7).
As for cost of living, the best city of the USA is more expensive, than in Russia. The five leads in value. Numbeo assigns 100 points for the highest cost of living in a particular country.
New York scored 100 points, followed by Honolulu (97,7), San Francisco (97,3), anchorage (96,8) and Washington (93).
The best city of Russia more accessible to local residents. In the first five had (48,8), Saint Petersburg (45,7), Yekaterinburg (39,5), Novosibirsk (37) and Kazan (34,69).
According to the basic criteria of measuring cost of living Numbeo, the winner (criteria: 1. the index of purchasing power; 2. security index; 3. index of health; 4. climate index; 5. the cost of living index; 6. ratio of property value and income; 7. travel time to work; 8. the pollution index).
At first glance, these figures are misleading. A large number may indicate a negative phenomenon. For example, a higher pollution index is worse than low, so the air quality in US better than in Russia.
Higher climate index is better than low, because it means that the country has a warmer and more varied climate regions, suitable for different outdoor activities, as well as a longer growing periods, suitable for farmers. Russia received more high marks in matters of security and cost of living.
It is worth noting that because health care remains a priority in the United States, the index for health is higher than among Russians.
Numbeo studied these components of the health system, as the qualification of medical personnel, quality of medical equipment and diagnostics, the cost of insurance, as well as the convenience and availability of doctors.
Russia received a rating of 60 in terms of value, ahead of the United States. Respondents from the United States estimated the cost at 46.7 out of a possible 200 points.
Comments
comments