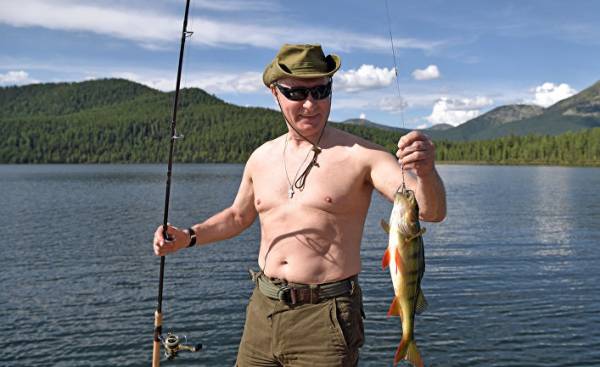 The Kremlin has published a 45 minute video which shows the Russian President during an active holiday in Siberia. That begs the question: does Putin handy with a fishing rod and harpoon, as we try to make you believe this video? Because Putin is likely to respond to this question, most likely, useless, our editors turned to Alexander Seggelke (Alexander Seggelke), the President with 520 thousand members of the German Federation of anglers.
Süddeutsche Zeitung: Mr. Segelke, how do you assess Putin video?
Alexander Seggelke: From the point of view of the angler, it is quite interesting. In this case, I'd rather watch fishing videos on Youtube.
— Why?
— Still here just used the beauty of nature, to represent the President in a politically advantageous light.
— Yeah, but at least you can fully see the underwater world of the Autonomous Republic of Tuva.
— Clearly, the area is very picturesque. Anyone would love there fishing. But we must not forget that in this case, the fish used for propaganda.
— What kind of fish catches Putin?
— Grayling, perch, pike. Using a spinning rod and a spoon, he imitates the movements of forage fish to attract prey. I would say that it is absolutely normal spinning. In Germany it is believed to use the net. In Russia, apparently not.
Putin even uses the harpoon.
— In Germany, of course, prohibited. On this subject I do not wish to speak. Let me just say that fishing is irrelevant.
— If you look from this point of view, you might think: under Putin to be a fish I would not.
— Correctly. Probably, in it and sense. In principle, I rejoice when they show politicians for fishing. But only when it's clear that fishing occupies an important place in our society and has its own traditions. For politicians such as Jimmy Carter (Jimmy Carter), fishing has always been a favorite pastime.
— What you value in fishing?
Nature. The meat of the fish. Spend time together with friends.

— There would be you, Putin did not object. He was accompanied by a Russian army General, the President of Tuva and the Chairman of the government of the Republic of Khakassia.
— Where is the youth? Where's the fun in that?
— He action camera.
Bottom camo pants.
— Maybe Angela Merkel is to capture video of fishing?
— Yes please, but only if nature is in the foreground.
Alexander Segelke, 37 years, aquatic ecologist and ichthyologist, President of the German Federation of anglers in Berlin. Before that was a professional player in the team Artland Dragons of the basketball Bundesliga.
Comments
comments