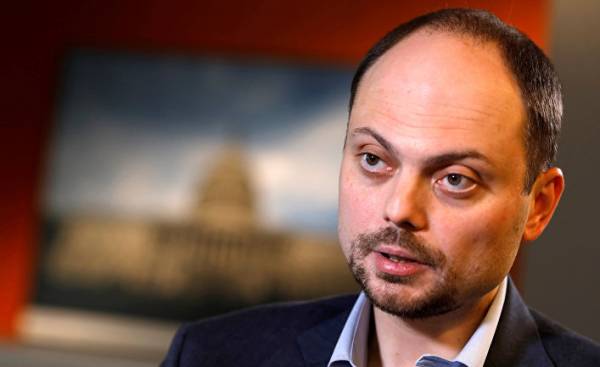 9 Jan Russian dissident Vladimir Kara-Murza was celebrating a landmark victory in their long campaign, designed to attract Vladimir Putin's regime to justice for crimes against human rights. Leaving in resignation, the Obama administration announced the imposition of sanctions against General Alexander Bastrykin, Putin's confidant and head of the Investigative Committee of Russia, which is often used as a tool for persecution of opposition activists with fabricated charges.
Kara-Murza, who lives on the two capitals, Moscow and Washington, has long called for sanctions against Bastrykin — the same way he called for the adoption of the law, according to which General was included in the sanctions list. It was the Magnitsky Act, which gives the right to impose sanctions against Russian citizens responsible for the implementation of repression and corruption. For many years Bastrykin, "it seemed, was too powerful to introduce sanctions against it," wrote Kara-Murza in his blog January 12. "But now, all restrictions are gone."
After exactly three weeks, while in Russia, Kara-Murza has experienced terrible and very familiar symptoms: he began to deny the internal organs. He immediately came to the conclusion that he was poisoned — this has happened to him before, in may 2015. His family took him to the hospital, where he was met by the doctor who saved his life in previous times. Within just a few hours Kara-Murza fell into a coma from which he never came out for a week.
Last week Kara-Murza met with me in Washington. He looked weak and suffered from asthma, but he was alive. He was sure that he managed to survive two attempts to poison him somehow difficult poison, traces of which cannot be detected exactly in the same way, the Putin regime got rid of their opponents in the last decade. He also knew exactly why he was targeted: it happened due to the fact that he worked on the sanctions imposed in accordance with the Magnitsky act.
"This is pure revenge for the Magnitsky act, said to me Kara-Murza. And, most importantly, what they fear. They have mastered the techniques with which they silenced opposition within Russia. Now the only thing they really fear is that Western countries can close them to the safe Harbor where they keep their money and where they send their families".
The head of the opposition, which has remained in Russia is Alexey Navalny, a nationalist and a fighter against corruption. In March, he posted a video showing mansions, villas and vineyards, presumably belonging to Prime Minister Dmitry Medvedev. By the beginning of last week, this video has garnered 9.7 million hits on YouTube, and it indicates that a lot of Russians still want to know the unpleasant truth about their leaders.
However, Kara-Murza is probably no less dangerous opponent of the Kremlin. He was educated at Cambridge, he worked for almost 10 years as a journalist in Washington, and then became an active representative of the opposition. He also has ties with the Congress after his hospitalization, some members of Congress, including Republican senators John McCain (John McCain), Marco Rubio (Marco Rubio) and Ron Johnson (Ron Johnson), and Democrats Chris Murphy (Chris Murphy) and Benjamin Cardin (Benjamin L. Cardin), made statements in which they expressed alarm in connection with this incident. At 35 Kara-Murza continues the work of Boris Nemtsov, a liberal opposition leader gunned down near the Kremlin walls in 2015. Between the two hospitalizations Kara-Murza made a film about the Germans, who now show in Russia.
In addition to publishing video on the Internet and agitation in support of the introduction of new sanctions, how else can you oppose Putin? A large part of 2016 Kara-Murza conducted in the Russian province, encouraging young politicians to participate in local and parliamentary elections. His calls were listened two dozen young politicians, who collectively managed to score just over 100 thousand votes. None of them could hope to win.
But Kara-Murza and his sponsor, Mikhail Khodorkovsky, the former oil tycoon, who later became a political prisoner, they find that they now contribute to the birth of the next generation of Russian democratic politicians. "A whole generation has grown up in the absence of democracy and fair elections, said Kara-Murza. We want to give them the opportunity to gain some political experience."
For the same reason, the opposition coalition plans to nominate its candidate for the presidential elections 2018. "We have no illusions — admitted Kara-Murza. — We know that it will be a fake election. But we will show that there is an alternative — because one of the fundamental myths of the Putin regime is that there is no alternative".
In response to the suggestion that a President trump may conclude an agreement with Putin and his regime, Kara-Murza just shrugged. "Only we can give impetus to the political changes in Russia, — he said. — Trump and [Angela] Merkel is neither here nor there". However, he added: "But we ask that the West helped Putin, communicating with him as an honorable player in the international arena, and that he did not help the associates of Putin to use Western countries as a place of storage of all that they stole."
That is exactly what the Magnitsky act. Freezing Bank accounts and visa bans is poison for members of Putin's inner circle. And Congress — with the support of brave Russians, as Kara-Murza — can do much more to expand the sanctions list.
Comments
comments