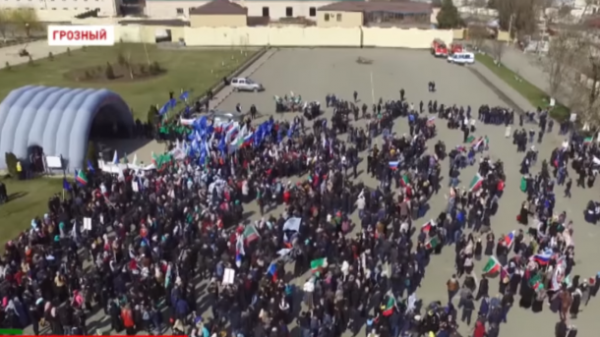 In Grozny, a rally was held in honor of Russia's annexation of Crimea, but which forcibly herded Chechens, reports the edition "Caucasian knot".
As told by participants, they are more than an hour had to be at the rally, where they came not of their own accord.
"It was another "sectioned". The meeting was held in the city center, near the press House. Handed us the flags of Russia, Chechnya and the "United Russia" banners. More than an hour we had to be at the rally. All drove to the rally in honor of the annexation of Crimea. Just don't like being forcibly driven to an event, and in the evening on TV show that thousands of people actively protested and everything," said one of the protesters.
Students also say that they can't afford to ignore the rallies, which they are invited in voluntary-a compulsory form because it threatens the "failure to test" and other troubles in University.
It was also organized a rally that people are not very appreciated.
"No point in these runs is not, they are needed except for the "pictures" in the news, and nothing more, but people create a lot of problems and discomfort," they say.
Crimea was illegally annexed by Russia in March 2014 after the "referendum" is not recognized neither Ukraine nor the world community. Including the "Crimean referendum" does not recognize and the United Nations.
The Verkhovna Rada of Ukraine officially declared on 20 February 2014, the beginning of the temporary occupation of Crimea and Sevastopol by Russia. October 7, 2015 President of Ukraine Petro Poroshenko signed the law. International organizations have recognized the occupation and annexation of Crimea as illegal and have condemned Russia's actions. Western countries have imposed a series of economic sanctions.
After establishing control over Crimea by the Russian occupation authorities on the Peninsula has worsened the situation with human rights, have concluded that not only the Ukrainian ombudsmen, but also international organizations, including PACE.
In turn the international criminal court (the Hague Tribunal) has ruled that Russia's actions during the occupation of Crimea is regarded as a military conflict against Ukraine. In the Hague say that the international conflict can be investigated according to the norms of the Rome Statute.
Comments
comments