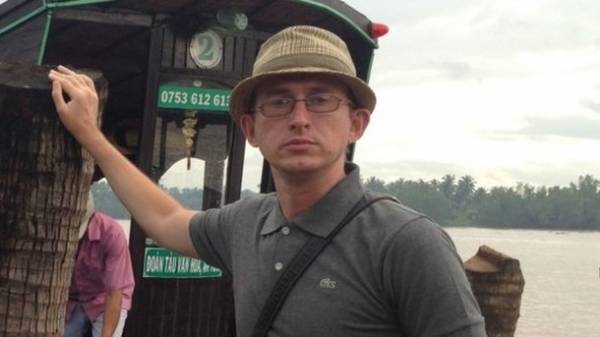 On 15 March, the editor of the "Religion" of the Russian propaganda newspaper Life Vladislav Maltsev reported error of the journalist of "Kommersant" Alexander Chernykh in the material about the political situation in the United States. The reporter thanked Mal for the clarification, however, soon broke out between them the dispute – says TJ.
The interlocutors turned to the individual, after which a journalist wrote about Life that "life has placed all in the places". Maltsev said that a year of life in Moscow "without any strain" purchased a one bedroom apartment and it was set in German appliances, Italian Wallpaper and porcelain tiles.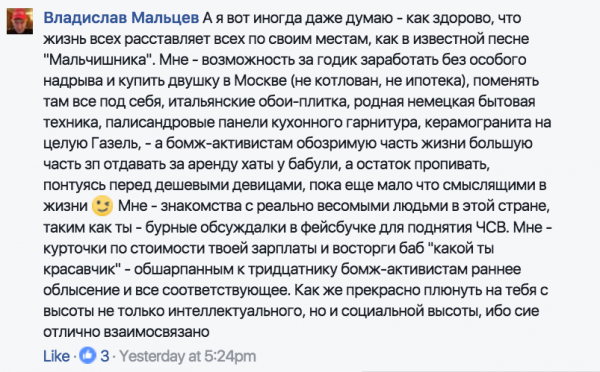 Maltsev known mixed reputation in the field of journalism through participation in nationalist organizations, including the White Patriot and the "Russian Imperial movement". Among his articles, which caused a wide discussion, a column in defense of the Deputy of the state Duma Natalia Polonskaya after the scandal with the bust of Nicholas II, the story of how ROC hinders outdoor activity supporters of St. Isaac's Cathedral and the report on "Kiev Empire with a nuclear bomb".



For a discussion of Maltsev and Black drew the attention of the columnist Oleg Kashin. The Facebook users chuckled over the behavior Maltsev in social networks and its emphasis on material goods.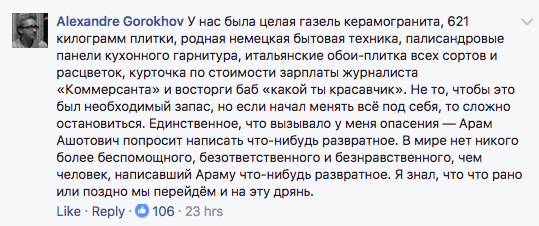 Soon Maltsev began to joke and other users of social networks.
just two exits from honest folks
(reporter layfnyus talks about his life) pic.twitter.com/dUXIV6vL1h
— Feldman (@EvgenyFeldman) March 16, 2017
Some users of social networks recalled the recent scandal in the Moscow zoo.
promised kopeck piece (not a pit, no mortgage) pic.twitter.com/dZJMXXFyqj
— (@OraclePigFuntik) 16 Mar 2017
On Maltsev joked for the expression of "granite", "rosewood" and "kopeck piece, not the pit" (a pit — house at the initial stage of construction).
— Come on, tell me how I bought a flat without a mortgage and not a pit pic.twitter.com/ak8318XfPF
— Pokemon Vetkafe (@sikorochka) 17 Mar 2017
17 Mar Maltsev responded to the criticism, try to imagine your story about the "kopeck piece in Moscow" as a PR campaign. According to the journalist, he got pranked Facebook users "fan, and playfully on the knee."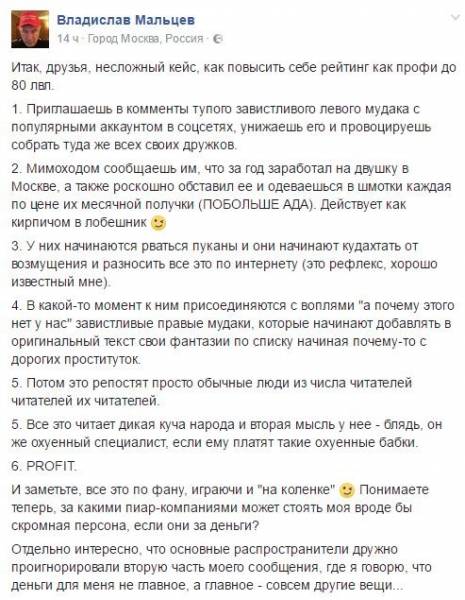 Maltsev parodied the head of the holding News Media and the owner of Life Aram Gabrelyanov.
A few hours Vladislav Maltsev dismissed in Life for the "non-corporate" behavior in Facebook. On his resignation "Medusa" was the first Deputy editorial Director-Life Anatoly Suleymanov.
"In Life do get a good salary, but not so big that you can buy a one-bedroom apartment, you decorate it in granite and to buy some incredibly cool leather jacket," – said the first Deputy editorial Director-Life Anatoly Suleymanov.
Maltsev has not yet responded to request TJ to comment on the message about his dismissal.
Life was not limited to the dismissal of Maltsev and made fun of him, by placing on the home page banner with pseudoracemic "Sell granite". The link in the banner leads to the page editor fired in Facebook.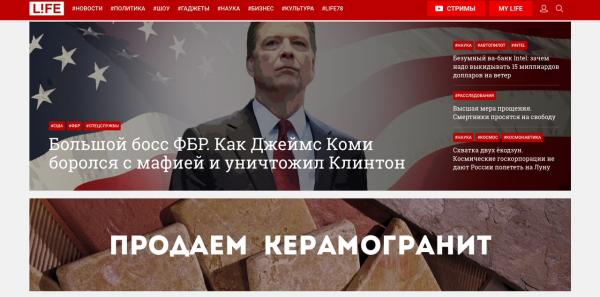 Comments
comments