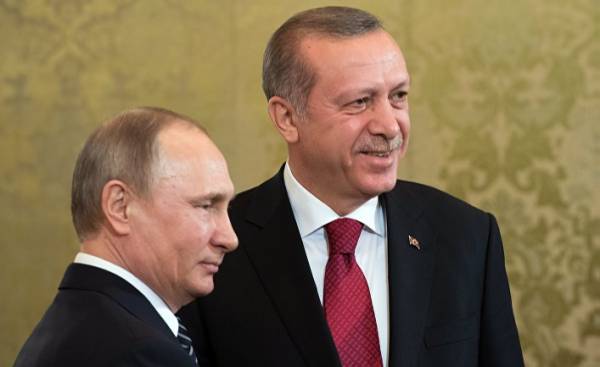 President Erdogan after a meeting with Russian President Vladimir Putin said: "no One should endanger the territorial integrity of Syria."
The President noted that the preservation of the territorial integrity of Syria and Iraq is "our main task, we do not accept the separation of these countries." Erdogan also stressed that Turkey "would like to cooperate with Russia and the international coalition forces" in Manbij.
For many years we say that we favor preserving the territorial integrity of Syria and Iraq, but can still insist on it?
The head of the regional Kurdish administration of Iraq, Massoud Barzani (Mesut Barzani), who recently visited Turkey, when answering journalists ' questions before the visit repeated what has already been said earlier (24 February 2017).
"The official borders of Iraq and Syria has lost its meaning… As we can now speak of a single (meaning unitary) state in Syria and Iraq? A time when Iraq had a strong Central government in the past".
Other forms of cooperation
As you know, the Kurdish regional administration in Iraq considerably expanded its territory, and this region is called "Iraqi Kurdistan".
The Iraqi government and the United States together with Barzani and the Peshmerga are cooperating in Mosul. Near Mosul the Kurdistan workers ' party (PKK) creates a new "Kandili" (Kandil mountain areas in Iraqi Kurdistan, where the PKK bases are located — approx. TRANS.).
As for Syria, Barzani said that "the border has lost its value" because there proclaimed Kurdistan under the title "Rozhava".
We say we "support the territorial integrity", but will it change anything?
Our desire to cooperate with Russia and the coalition forces in Manbij — some belated decision.
The United States, "head of the coalition," he placed his hand at the entrance to Manbij, to prevent the Turkish armed forces to enter the city; and Assad, Russia and the Party "Democratic Union" (PYD) is on their side. The curator of the PKK in Kobani (for some reason) made a statement to the Russian press and said that "the PYD-PKK would create an Autonomous civil administration in Manbij"; immediately afterwards it was declared, thousands of PKK terrorists are trained here in specially created camps.
Serious dilemma
That in Syria the US and Russia are on the same flank, I wrote long before there were these latest news, so when U.S. Senator John McCain (John McCain) said: "We were on the same side with Russia against Turkey," I am not surprised.
Surprises me the fact that Russia, despite the fact that she is currently "interacting with the U.S. and coalition forces", in relation to Turkey behaves "as if it's not."
Similar contradictory position demonstrates Barzani, who, pretending to be cooperating with Turkey, is developing other plans.
Comments
comments