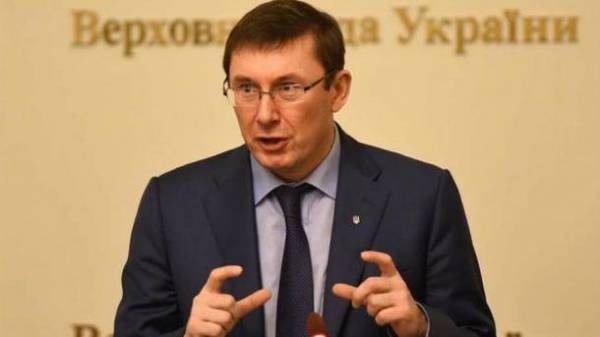 General Prosecutor's office will assess the actions in a sessional hall of Parliament on 15 March, when the courtroom came four police officers in camouflage, and the deputies after the meeting held "charges of people's deputies".
"If there is such a request, it will be reviewed and the competence of the General Prosecutor's office we will give the rating", – said the General Prosecutor of Ukraine Yury Lutsenko to journalists on Thursday on the sidelines of the Parliament.
He added: "as far As I know, the police appeared at the podium of the Verkhovna Rada after the closing session of the meeting. This is according to preliminary information that I received from the deputies and if this is true, then obviously there is a violation of the rules, but whether there is a violation of the law – we'll see."
As reported, on 15 March the Vice-speaker of the Verkhovna Rada Oksana Syroid announced morning session of the Parliament after the plenary hall included people in camouflage uniforms and headed to the podium.
Before this, the three factions of the Verkhovna Rada – "Block Poroshenko", "popular front" and the Radical party, urged Syroid to give the opportunity to speak to law enforcement officers who became participants of the incident at the checkpoint in Slavyansk, Donetsk region with the participation of non-faction people's Deputy Vladimir Parasyuk.
Syroid appealed to the security Service of Ukraine and the General Prosecutor's office to investigate the incident.
As reported, the coalition "European Ukraine" in the Verkhovna Rada is outraged by the violations of Regulations on the part of the Vice-speaker Oksana Syroid, that may be grounds for her dismissal at own will.
"As the chair, MS Syroid not put to the vote the initiative of the three factions on speech at the soldiers National police, which organized the attack Parasyuk. In support of this initiative by the three factions of the Parliament. Therefore, the presiding officer in accordance with the Regulations BP is obliged to submit it for consideration to deputies, and in the case of 150 votes "for" – to give the floor to invited. This is a legitimate practice that has always applied in the Verkhovna Rada of Ukraine", – reads the statement of the coalition factions.
Comments
comments