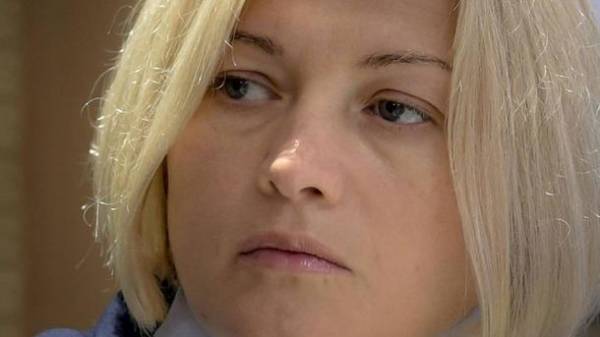 The effects of the trade blockade of Donbass will feel many in Ukraine. This opinion in Facebook was expressed by first Vice-speaker of the Verkhovna Rada Iryna Gerashchenko.
"I ask all tactics and strategy, which are in every way protected the Scam without education, but with a Deputy's badge and gun in his pants, psychopaths and their mentors, the faction that was under right-wing slogans, and slipped into the indecent leftism, to remember the very exact words from the speech of the President on the national security Council, about the so-called blockade that helped the enemy to destroy the Ukrainian economy and Ukrainian enterprises", – she wrote.
Irina Gerashchenko noted that the consequences of this adventure will be very painful for the Ukrainian economy and for society, for dozens of small businesses, subcontractors who worked on the contracts. "The oligarchs will survive, there is body fat hoo. But the Ukrainian budget and dozens of small businesses in Eastern and Central Ukraine will be difficult. And when these consequences will be felt in Zaporozhye, Krivoy Rog, Kropiwnicki, including the families of the hostages, remember all those unpopular but honest things that you talked about hybrid warfare, and then ask the question is not of power, and adventurers who shoves you on the "redoubts". And Yes, remember that these adventurers no one was fired, and only worsened the problem", she added.
Earlier, President Petro Poroshenko said that the economic blockade of the occupied territories of Donbass are not caused by the Russian invaders and the militants of the so-called "DNR" and "LNR" significant damage, but suffers more from this Ukraine itself.
"The negative effect of the embargo for the whole of Ukraine is absolutely obvious, but fundamentally affect the occupiers it is not capable. Through uncontrolled Ukraine hundreds of kilometers of the Russian-Ukrainian border, they can easily get everything they need from the Russian Federation. And the same to sell all they want. Trial the echelons of Ukrainian coal from the occupied territories has gone to the Russian Federation", – said Poroshenko.
He noted that for eighteen months the siege is not brought, and distanced the prospect of a return of the occupied territories. He also added that the blockade discreditied Ukraine in the eyes of the international community and plays into the hands of Russia.
Comments
comments