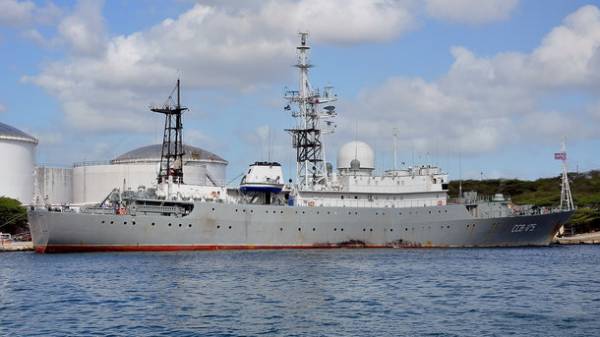 Off the East coast of the United States re-discovered by the Russian intelligence ship Viktor Leonov, reports "New time" with reference to Fox News.
The official US intelligence officials told the newspaper that a Russian ship Viktor Leonov returned to the waters off the East coast of the United States after a brief stop to refuel in Havana. The ship was spotted by American scouts about 23 miles South-East of the submarine base US Navy kings Bay, GA. However, the Russian spy ship remained in international waters at a distance of 12 nautical miles from the territorial waters of the United States.
A ship of the Navy of the Russian Federation Viktor Leonov was first discovered the American coast on 14 February, while patrolling off the East coast of the United States, 70 miles from the coast of the state of Delaware.
On February 15 he was seen near the base of submarines of the naval forces of the United States, 30 miles South of the town of Groton, Connecticut.
In the United States believe that the ship Viktor Leonov is not able to carry any kind of threat to national security, and only demonstrates the technical backwardness of the Russian fleet.
So, according to the U.S. military, electronic surveillance equipment installed on the ship, is obsolete and is able to catch only the radio ship-to-ship, ship-to-shore, as well as commercials.
Comments
comments