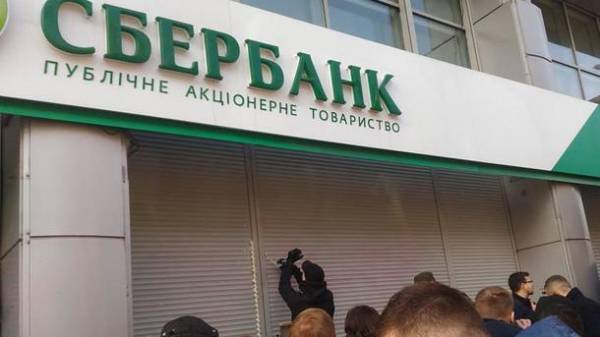 Proposed by the NBU of sanctions against banks with Russian capital will forbid their shareholders to withdraw capital from Ukraine. Comments about this "Today" said the people's Deputy from BPP, member of the parliamentary Committee on financial policy and banking Ruslan Demchak. According to him, first individuals and legal entities have to return their money (which is about 36 billion UAH – Ed.) and then banks with Russian capital to leave the market.
"At the moment these sanctions are enough. I want to note that those banks that were announced, is BM Bank, VTB Bank, Prominvestbank, and savings Bank VS Bank, all banks with a shareholder are not just Russian banks and state-owned Russian banks. Accordingly, these banks sanctioned. And sanctions are neither under the form of dividends, opening of correspondent accounts, debt transactions, it was impossible for parent companies to withdraw money. Today, I have asked why this could not be done before? Because it was not in the society of the resistance, and now there is a big chance that under the guise of any correspondent operations, a large amount can be withdrawn. The occasion was not only promotion, when they broke Windows, etc., is the outflow of capital from these banks. There is a high probability that shareholders will give the command to withdraw money," – said Ruslan Demchak.
But, he said, given that all of these banks balance sheet and good liquidity, they have the opportunity to all Ukrainian corporate and retail investors to pay the money. "So I think that at some stage you need that the money was paid, and then God let go. Perhaps it will self-destruct. NBU bans banks with Russian capital to withdraw money. If they break, will be immediately introduced temporary administration and the Bank will bring in a compulsory order," – said the MP.
Ruslan Demchak not exclude that after the mass protests and sanctions of the NBU, we see the withdrawal of Russian banks from the Ukrainian market. "I can't understand how they survive until now? However, they dokapitalizatsiya. The fact that they are still in the market suggests that they still have ambitions. Shareholders of banks can monitor those borrowers who can't pay loans. Imagine that there are Russian banks that have issued loans of strategic Ukrainian enterprises, and these loans are not serviced, because the difficult economic situation and even the fact that they inflame the situation in the temporarily-occupied territories. And these enterprises eventually could lose their property in favor of Russian banks, and the result in favor of their shareholders. Therefore, their presence to me was due to the fact that they still had ambitions to control those borrowers. Their departure from the market is a good psychological sign that they have lost all hopes to return to Ukraine", – summed up the MP.
Yesterday, the NBU fulfilled the requirement of the national security Council and developed proposals for the introduction of sanctions against operating banks in Ukraine with Russian capital. "This means that it will be forbidden the exercise of any financial transactions in favor of the parent banks, interbank loans, deposits, subordinated debt, purchase of securities, placement of funds to accounts, and similar operations. Also, this prohibition of payment of dividends, interest, return of interbank loans funds to accounts and subordinated debt. We also propose to prohibit the distribution of profits and allocation of capital", – said the first Deputy head of the NBU Yakov Smoliy.
Sanctions apply only to banks with Russian state capital. Private banks with Russian capital, for example, Citibank and Alfa-Bank will not touch it. Sanctions will be enforced by the decision of the Council.
The introduction of sanctions against banks with Russian capital was preceded by protests: activists sealed several offices of Sberbank of Russia in Ukraine because of the decision of the Bank to work with clients "citizenship" of the so-called "DNR" and "LNR".
Comments
comments