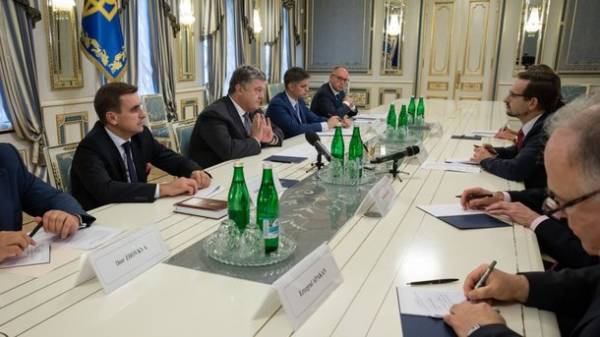 The President of Ukraine Petro Poroshenko and the newly appointed Secretary General of the OSCE Thomas Greminger (Thomas Greminger) met in the environment in Kiev, discussed the initiative to introduce a UN peacekeeping mission in the Donbass.
"The parties have coordinated their approaches on the placement of the UN peacekeeping mission in the entire territory of the occupied Donbas. Petro Poroshenko noted the importance of intensive dialogue between the OSCE and the UN in this matter", – the press service of the Ukrainian President at the meeting.
The interlocutors also discussed the activities of the OSCE SMM and needs of strengthening operational work of the mission. In this regard, Poroshenko appealed to the OSCE Secretary General with a request to facilitate the provision of SMM new technical equipment to improve the quality of the daily work of observers of the special mission. They stressed the importance of full and unimpeded access of the OSCE SMM to all the temporarily occupied territory of Donbas, including the uncontrolled section of the Ukrainian-Russian border.
SEE ALSO
Ukraine is ready together with the peacekeepers to take control of the border with Russia
In General, Poroshenko informed about the situation in the Donbass, the implementation of the Minsk agreements and outlined the vision of the strategy of de-occupation of Crimea.
The President of Ukraine urged Preminger to use all possible mechanisms of the OSCE to release Ukrainian political prisoners in Russia and Crimea, as well as hostages still being held by Russian occupation forces in the Donbas.
Greminger became the OSCE Secretary General in July this year.
Recall, September 5, the Russian Federation has sent to the UN Security Council a draft resolution on the deployment of peacekeepers on the demarcation line in the occupied Donbas.
Later in mass media there was information that allegedly Russia proposes to create an armed small arms, the UN mission to protect OSCE observers in Eastern Ukraine for an initial period of six months after the withdrawal of troops and military equipment from the contact line.
In turn, the permanent representative of Ukraine to the United Nations Volodymyr Yelchenko said that made by Russia in the UN draft resolution no relationship to peacemaking in the Donbass does not.
Comments
comments