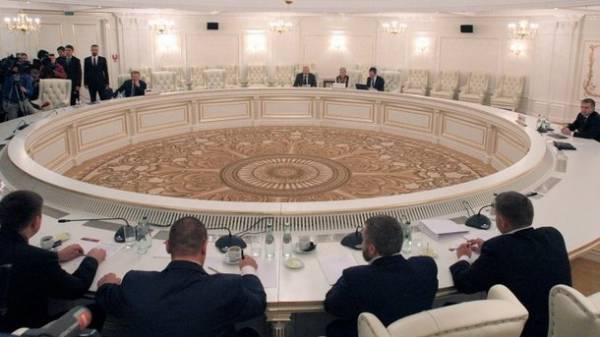 In Minsk ended Tripartite meeting of the contact group, where the Ukrainian side has demanded from Russia to withdraw its recognition of the documents of the so-called "DNR" and "LNR", and to cancel the confiscation of Ukrainian enterprises. This was stated in Facebook assistant of the representative of Ukraine Leonid Kuchma TAG Darka olifer.
According to her, the actions of Russian authorities and their puppets in the "L/DNR" is regarded as a violation of the Minsk agreements.
"Ukraine is clearly stated: the decree of the President of the Russian Federation on the recognition on the territory of Russia of the documents issued by the illegitimate authorities ORDO; raider seizure of state and private ownership in non-government controlled parts of Donbass and Kaziukas so-called "DNR" on pseudograeca by far considered to be the international community and Ukraine as a violation of the Minsk agreements and leads to their breakdown," written by olifer.
She also noted that Ukraine has demanded from Russia of decisions on these issues, as this may cause failure of the "Minsk process".
She added that this issue has put Ukraine at the level of working groups and in the framework of the Trilateral contact group.
We will remind, on February 18 the President of Russia Vladimir Putin signed a decree on the recognition in Russia of the documentsissued to citizens of Ukraine and stateless persons residing in the occupied territories of Donetsk and Lugansk regions of Ukraine.
Comments
comments