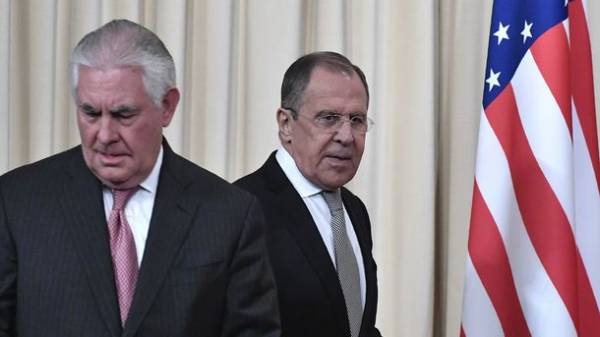 At the meeting, U.S. Secretary of state Rex Tillerson in Moscow with Russian President Putin tried to find out why it fell to the level of confidence between States and to establish two-way contact. This was announced Thursday during a briefing in Washington, acting representative of US State Department mark Toner, transfers "UKRINFORM".
"The parties acknowledged that the level of trust between our States have reached a historically low level," – said the official representative of the state Department.
He said that during the conversation Tillerson and Putin "discussed the history of why it happened". According to Toner, both of them trying to better understand why each of the States provoked by the actions of another in certain areas.
Read also: Lavrov Meeting with Tillerson: all details of the negotiations
Answering specifying question, whether it was at the meeting, Tillerson and Putin about Ukraine, the spokesman said that is not familiar with all the details of their dialogue. "I can say that the Ukrainian question was certainly raised at a bilateral meeting with foreign Minister Lavrov. I don't have all the details of the meeting with President Putin," said Toner. At the same time, he stressed that Rex Tillerson is very clearly voiced its position on Ukraine after meeting in Moscow.
In addition, the Toner is called "speculation" reports that the presidential Commission the U.S.-Russia resumes its work. Instead, it is the working group on the issues of bilateral cooperation, however, detailed the mandate of the group is not yet defined.
The representative of the foreign Department of the USA also noted that the Secretary of state Tillerson and Minister Lavrov agreed to keep in touch by phone. About following a personal meeting between the heads of the foreign departments it is not, noted the acting representative of the U.S. Department of State.
We will remind, on April 11, U.S. Secretary of state Rex Tillerson arrived in Moscow for the first time as head of the American foreign Ministry. On 12 April he held talks with Russian foreign Minister Sergei Lavrov. And later Putin received in the Kremlin Tillerson and Lavrov. The meeting lasted more than two hours. The Kremlin said that Putin at a meeting with Tillerson discussed the Ukraine "dotted".
At a press conference following the meeting with Putin, Tillerson said that to fully progress in implementing the Minsk agreements Ukraine will remain an obstacle in relations between the US and Russia.
Media reported that Tillerson is flying to Moscow to represent to Russia the evidence of what was known about the use of government forces of chemical weapons against civilians in Syria and tried to hide it.
Comments
comments