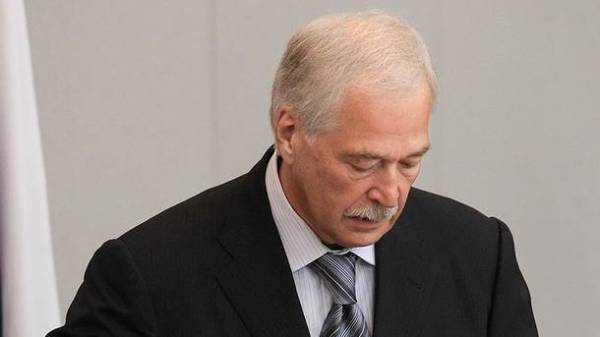 Russian envoy to the Trilateral contact group in Minsk, Boris Gryzlov believes that Kiev violates the Minsk agreement, continuing to transport links with the occupied territories of Donbass, Interfax reported.
"Agreements made in Minsk two years ago, contained a clear roadmap to a civilized resolution of the conflict (according to which Ukraine regain control segment of its banking system in conflict-affected areas)", Gryzlov said in Minsk.
He believes that the NSDC decision is contrary to the Minsk agreement, and Ukraine thereby causing harm to herself
"Instead of restoring the financial system in the Donbas, in accordance with the Minsk agreements, the Ukrainian authorities are destroying their own banking system. Mean, in particular common today in the media statement of the President Petro Poroshenko at the NSDC meeting about providing for the termination of transport communication with "LC" and "DNR", which directly contradicts the Minsk agreements", – said the envoy.
As reported, at the meeting of the President of Ukraine, national security and defense Council Petro Poroshenko decided to temporarily completely stop transport – automobile and railway – from the occupied territories of Donbass.
After that , the Council supported the proposal of the President in connection with the seizure of the Ukrainian enterprises and the deterioration of the situation in the zone of the military operation in the Donbass. As stated by Oleksandr Turchynov, "in pursuance of the NSDC decision until 13:00 today will be closed all roads and railway lines leading to the separation line".
Comments
comments