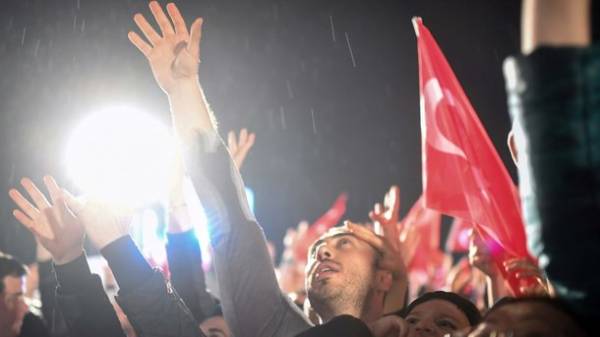 51,35% of the voters of Turkey at the constitutional referendum called for the transition from parliamentary government to a presidential one. It is reported by the Turkish news Agency Anadolu.
"After calculating the data with 99.99% of the sites across the country, proponents of the referendum in the lead, having 51,35% support… Also left counting data from multiple foreign sites, which do not affect the voting results", – stated in the news report.
The total number of votes amounted to almost 49 million because of changes to the Turkish Constitution voted 51,36%, or 24 million 935 thousand 426 of voters, against – 48,64%, or 23 million 616 thousand 345 voters.
While the Turkish opposition has already declared intention to appeal against the results of the referendum, as its observers had reported fraud during the counting of votes.
Constitutional changes in the transition to a presidential system have been adopted by the Turkish Parliament and signed by President Tayyip Erdogan.
A package of amendments to 18 articles of the Turkish Constitution implies that the President becomes the head of the state system, he will be endowed with the power to appoint Vice-presidents, Ministers and senior officials.
The Prime Minister will be abolished. Decisions on the establishment, dissolution, powers, responsibilities and structure of the ministries will be determined in accordance with the decrees of the President.
Right on the Declaration of state of emergency will be received by the President, approve the decision of the President on the state of emergency will be Parliament. The head of state will be able to publish and the other having the force of law decrees, which will enter into force without the prior approval of Parliament, but they can be canceled if lawmakers in the future they will reject.
The President will not be able to leave the ranks of his political party, as provided for in the current Constitution of Turkey.
Comments
comments