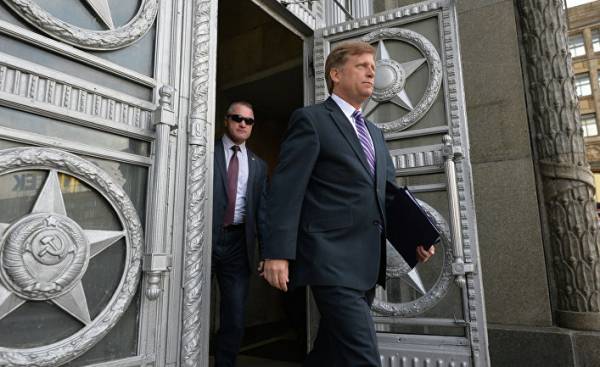 Stanford, CA. "I wish him luck," wrote Michael McFaul (Michael McFaul) on Twitter in the day when Jon Huntsman (Jon Huntsman) has offered to take the post of U.S. Ambassador to Russia.
McFaul had held this position from January 2012 to February 2014, when he resigned after two years of almost constant stress and worries. Moscow is unlikely to go with Huntsman — colleague Donald trump as unfriendly as she turned to McFaul, whose straightforwardness in the protection of democratic values so irritated that he became the object of her undisguised rage.
After McFaul left the inhospitable Moscow, he returned to Stanford University, where he taught before to go into service in the state Department of the Obama administration in 2009 — and where the only threat to physical and mental health are students on bicycles. Currently he is Director of the Institute for international studies Freeman Spolli (Freeman Spogli Institute for International Studies) at Stanford and a senior fellow of the Hoover institution. He agreed to meet with me in his modest office, where we were able to talk in between his performances on television.
According to McFaul, the relationship between the U.S. and Russia, "never in 25 years had such a large value what they have now." However, in contrast to the period of time when the Soviet Union broke up, now "there is no place for optimism." Then America was very inspired by the idea that Russia "can build democratic institutions and capitalism and try to move closer to the West. Democrats and Republicans in the White house for 25 years sought for this purpose."
McFaul acknowledged that "on the way there were hitches and obstacles," but Americans "still continued to hope to achieve this goal. Today, from my point of view, this project is coming to an end".
Vladimir Putin has destroyed all hope.
***
Putin takes a significant place in the history McFaul, and sometimes I get the impression that his relationship with the Russian leader is deeply personal. I would say that during its work in Moscow, McFaul was "restless American" — almost undiplomatic Ambassador.
But McFaul did not agree with my point of view. "I suspect that most people thought I was a public person, which regularly publishes posts on Twitter. It was really part of my job. However, another part of my job was to daily commute to the Ministry of foreign Affairs of Russia and to engage in diplomacy, which basically boiled down to attempts to minimize the negative effects, because relations between our countries entered a phase of confrontation even before my arrival to Moscow."
Putin was preparing for re-election to the presidency, when McFaul arrived in Moscow, and it was a time of mass demonstrations. "Hundreds of thousands of people came out to protest for the first time since the collapse of the Soviet Union. That's when I came to Moscow".
One senior Kremlin official, who was familiar with McFaul for many years, told him: "Mike, your coming just now is manna from heaven for our campaign." "I wrote a lot about democratization and spoke in its support, says my companion, so I became the perfect target for their anti-American rhetoric. In Russia it was thought that Obama sent me to Russia to foment revolution against the Putin regime".
I asked McFaul, what feelings are caused in him the realization that he had helped Putin to be reelected to the presidency — that he unwittingly became a part of the winning strategy of Putin. "I don't think I played a crucial role,' he replied. But they do believe that their anti-American campaign has brought to Putin a significant number of votes in the elections in March 2012."
McFaul acknowledges that he often went beyond what is usually involved diplomats. "In matters of democracy, Yes, it was, he said, adding that such instructions he received from the administration. — Being a man who never before held a diplomatic post, surely I could fly to Moscow and start your own independent operation? I'm not stupid. I acted solely in the framework of the policy of the US administration".
"Let's be clear, he continued. — I was also a person who participated in the development of policy in 2009, and much of it was based on the idea that we should interact with the state and society".
"What has changed? Our policy has not changed. Change was the fact that the Kremlin began to show concern and worry for the stability of his regime. And I could not seem to change."
***
McFaul also had nothing to do with the incessant bullying that began after his public dialogue with representatives of Russian civil society. "They started an aggressive campaign, beating me up, threatening me, chasing me and my family, he said. I passed two years. A surge of aggression in the period of my work in Moscow was very dramatic."
"The old-timers at the Embassy said they never saw that this was not even in Soviet times. The people working there are real heroes of their country because they are faced with this level of aggression with which no one should have to face."
I mentioned an incident that happened in March 2012, after which McFaul was the enemy in the eyes of Russian nationalists. He was supposed to meet with one of the leaders of Russian civil society, and the details of the meeting failed to keep secret. "All my telephone conversations recorded, recalled McFaul, and I was expecting a circus and the reporters with cameras, Cossacks in fur hats, the far-right youth." Then they surrounded him, and he flipped out. "I'm sorry about that," he admitted.
Although McFaul speaks Russian and can speak it well enough to carry on quite sophisticated conversations, but as he himself admits, are not always able to catch all the nuances. "That day I wanted to tell the gathered crowd: "This is crazy. Such behavior is indecent." But instead I said, "wild country". Since then I was constantly reminded about it."

***
Ukraine is lost to the West? Donbass and Crimea is lost forever?
Hearing these questions, McFaul came to life. "I think that Ukraine has a great future. If to speak about Ukraine, I am very optimistic. I don't want to predict what will happen in the East. I'm not sure yet that it was lost forever, but I believe that the way out will be found".
"A very important positive consequence of this terrible invasion and annexation was that the result was the birth of the Ukrainian society, the Ukrainian nation and identity."
Despite the problems in the upper echelons of power — which came mainly representatives of the old system — McFaul points to a very vibrant civil society and its desire for integration with Europe. "It was the birth of the nation, he said. — Putin unconsciously provoked it".
What may be the most dangerous step of a trump against Russia? "I think McFaul said that this step might be the recognition of Crimea as part of Russia. Such a decision will undermine the foundations of all that we built after the Second world war. At the beginning of the list of demands of the liberal international order is the requirement not to encroach on the territory of its neighbors. It scares me".
McFaul expressed "cautious optimism", saying that trump is apparently ready to abandon this step, adding that the policy of the new President against Russia is becoming more like Obama's policies.
"Despite all the election promises, if you remember what was said about NATO, the Crimea, and sanctions, you will realize that in fact little has changed," he explained.
How will the Putin era? "It will end when Putin will leave the government, — said McFaul. But I think he will try to stay in power as long as possible".
According to him, the natural end of Putin's presidency, "unlikely" "given the nature of the system, which he built around himself a system that relies only on a single charismatic person."
In Russia now there is nothing that can be compared with the Communist party of China, and the Russians "is almost certainly no such ideas and attitudes are not related to Putin that any representative of his ideological camp could use it."
So you believe that Putin will never leave power and move to their cottage?
"I hoped," — said McFaul.
Tunku Varadarajan — contributing editor of POLITICO and a fellow of the Hoover institution at Stanford University.
Comments
comments