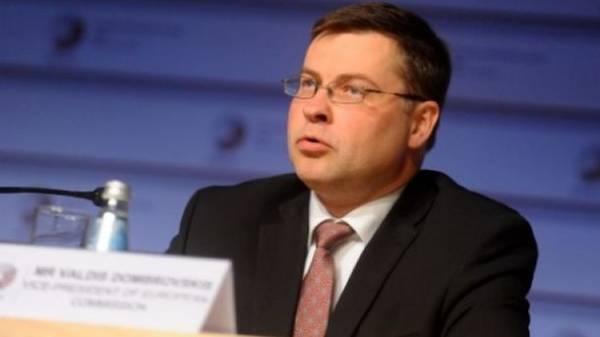 The European Commission is optimistic about the recovery of Ukraine's economy and macro-financial policy of the government, however, insists on the implementation by Ukraine of conditions for execution of the package of macro-financial support, payment of its final tranche of 600 million euros.
"The Ukrainian economy is recovering, the government is pursuing sound macroeconomic policies and therefore receives substantial financial assistance from international partners, including the EU and the IMF," – said Vice-President of the European Commission Valdis Dombrovskis on Wednesday at a joint press conference after a meeting with the Minister of Finance of Ukraine Alexander Danyluk.
"Ukraine has emerged from recession, GDP growth reached approximately 2%, and preparing next year's budget, the government expects to reduce its deficit to 2.5 percent of GDP. Ukraine successfully returned to the international financial market", – stated the European official.
He reported that he had discussed with the Ukrainian Minister of the last steps necessary for Kyiv to receive the final tranche of macroeconomic package of 600 million euros. Still have a few obligations that Ukraine must fulfill, including in the sphere of fight against corruption, the establishment of a credit register, removal of certain restrictions of trade.
Danyluk, in turn, noted that the Ukrainian government has planned for the coming months is very intense agenda of reforms that are part of the conditions for receiving macro-economic assistance from international partners. Pension reform, reform of the health system (second reading in the Parliament), law on privatization, etc.
According to him, the recent placement of Eurobonds Ukraine was a great success: General market demand exceeded $ 10 billion, indicating that the confidence of international investors to the Ukrainian economy.
Comments
comments