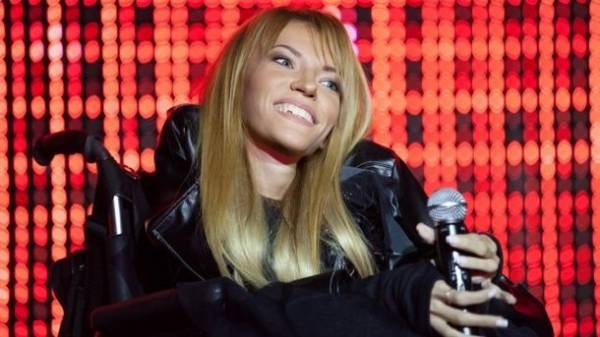 Singer Yulia Samoylova, who will participate in the Eurovision song contest in Kiev, from Russia, did not consider the competition politicized, but haven't thought about possible problems with entry to Ukraine. She told about that in comments to "Interfax".
According to her, she's not thinking about problems with entry to Ukraine for participation in the competition.
"I don't know. I don't think. My task is to sing a song to prepare. I have a lot of rehearsals. I'm positive absolutely. I think that all will be well. I don't know what there might be, how they expect to treat me. Doping for singing I'm definitely not taking," said Samoylova.
She also explained that the limitation of physical abilities did not prevent her to perform at the competition.
"I'll be singing along with other members. The fact that I'm in a wheelchair…I Have the same vocal cords are not damaged. On the stroller and on the stroller. What's the difference? Sing and sing. I have no problems just sitting in a wheelchair," said the singer.
As it became known, Russia at the international musical contest Eurovision-2017, which will be held in Kiev, will present the singer with disabilities Yulia Samoilova.
The security service of Ukraine will check the accuracy of the information about possible visit of Russian singer Yulia Samoilova in the Crimea occupied by Russia and then decide on its admission or non-admission to Ukraine.
In turn, the Kremlin confirmed the visit to occupied Crimea by the Russian participant of Eurovision-2017 Yulia Samoilova. Peskov said that the artists are in the Eurovision song contest "sing, not make political statements".
Comments
comments