The billionaire founder of Tesla Elon Musk has expressed a willingness to carry out in Ukraine for its project on conservation of renewable energy. In response, the Prime Minister of Ukraine Volodymyr Groisman offered to discuss the issue. This is evidenced by the correspondence on Twitter.
In correspondence from the Mask asked if he could implement the project in Ukraine, which is going to launch in Australia regarding renewable energy, he said, "of Course. Just check out my previous tweet about the price ($250 per kW/h at the package level). The website will be updated soon, so it will be full transparency."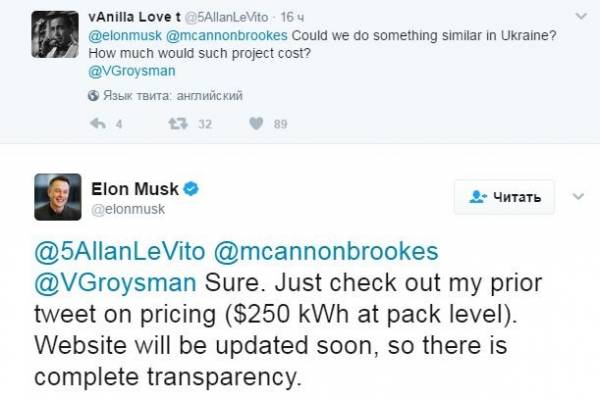 Reports 112.ua the essence of the project is as follows: the company Tesla will install a battery Powerwall 2 within 100 days, and if this does not resolve the power outage, they will perform the entire project (at a cost of about $ 25 million US) for free. Thus Musk decided to save Australia from the energy crisis.
The sentence "Tesla" is based on the battery Powerwall 2 second generation, which will collect in these configurations, so they were given the energy of 100-300 megawatt hours. A device for storing energy, such as a network of battery Powerwall 2 may make the power supply more reliable and uniform, and to protect from high periods of demand and failures in the networks.
In turn to correspondence connected Volodymyr Groysman. Prime Minister of Ukraine proposed to discuss the issue.
"Thank you for the interesting idea. Ukraine really wants to become a testing ground for innovation. Let's talk about this more," he wrote.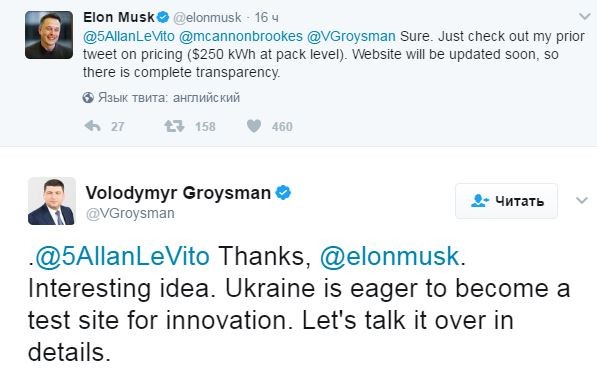 Comments
comments