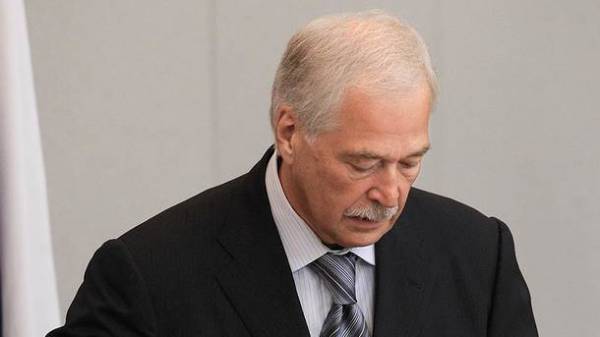 The Ambassador of Russia in the contact group on settlement in the East of Ukraine, Boris Gryzlov responded to the words of an expert from Ukraine in the political subgroup of the Trilateral contact group Olga Aivazovskaya that the political settlement in the Donbass removed from the agenda of the talks in Minsk.
"Never Contact group had not discussed changing the text of the Minsk agreements. An attempt to remove from the agenda of the talks in Minsk format the points of the Minsk agreements is equivalent to the complete disavowal of these agreements," he said.
Earlier the speaker said that the agenda of the talks in Minsk, the question of holding elections in the occupied areas of Donbass.
"In fact, the negotiation process is sometimes more difficult in terms of victory or betrayal than it seems. Because of the agenda, including through the negotiations and the position of the Ukrainian side, the question of elections, the question of constitutional changes", – said the speaker.
Earlier the President of Ukraine Petro Poroshenko said that the elections in the occupied territory of Donbass in the presence of Russian troops is absolutely impossible.
"Also impossible, we believe the holding of elections in presence of the troops. One of the conditions is a security component that is in the roadmap of settling the situation with the Russian aggression. And the withdrawal of Russian troops is absolutely essential," – said Poroshenko.
As you know, after the illegal annexation of Crimea in March 2014, Russia began to actively support the militants in the Donbas. The Ukrainian side has repeatedly said that the Donbass is military equipment from the Russian Federation and the Russian military. All these accusations the Kremlin denies, however, refused to grant international observers access beyond the control of the Kiev area of the Ukrainian-Russian border. At the same time, Pro-Russian militants in violation of all agreements, carry out attacks of positions of VSU.
The Ukrainian military have repeatedly cited evidence that Pro-Russian militants used weapons that only the Russian army.
Recall, the European Union has repeatedly stated that sanctions against Russia can be lifted only after full implementation of the Minsk agreements, which involve among other things the withdrawal from Ukrainian territory of Russian troops and equipment.
The White house announced that the President of the United States Donald trump urged Russia to engage in de-escalation on Donbass.
Comments
comments