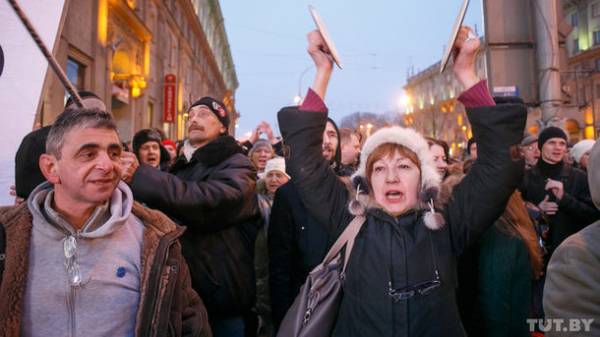 Several Belarusian oppositionists detained on Friday evening in Molodechno (Minsk region) there after the last "March of natureade".
"In Molodechno after the "March of natureade" was detained leaders of the center-right coalition vital Rymasheuski (co-chair of the organizing Committee of the party "Belarusian Christian democracy" (BCD) – ed.), Anatol Lyabedzka (the United civil party – ed.) and Yury Hubarevich (the Chairman of the movement "For Freedom" – ed.) and the leader of the Christian democratic movement Olga kovalkova, journalist Sergei the King's son, and several others. Now they are in Molodechno police Department is "proceeding," – said the BCD press service.
"In Molodechno police Department. Detention is in the best tradition … Scored in beads, face to the floor. Now there is a trial," – said Hubarevich in Facebook.
As previously reported, the rally in the Central square and the procession to the building of the tax inspection in Molodechno was attended by about 500 people.
The decree "On prevention of social dependency" establishes the obligation of citizens of Belarus, permanently resident foreign citizens, persons without citizenship, who was not involved in the financing of public expenditure or participating in such financing less than 183 calendar days (six months – ed.), on payment of a fee in the amount of 20 basic units (1 basic unit is Br23, or $12 equivalent).
For non-payment or incomplete payment provides for the imposition of a fine in the amount from 2 to 4 base units or administrative arrest with obligatory attraction to performance of community service.
In total, the tax authorities sent to the citizens about 470 thousand notices on payment of fee.
The term of tax payment expired on 20 February 2017. As of 21 February, it paid about 54 thousand people.
The adoption of this decree caused the active protest of the population. So, in February and March in some major cities have been unsanctioned marches "natureade".
On the eve of President of Belarus Alexander Lukashenko held a meeting on the topical issues of development of the country, which is instructed to suspend the levy "deadbeats" for a year.
Comments
comments