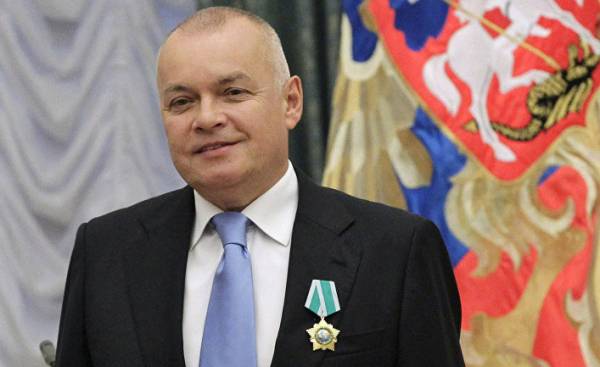 Without a doubt, Kiselev, the most powerful man, President Vladimir Putin on television, Director of "Russia 24" and host of the Sunday program "Vesti". Dmitry Kiselev called the former Minister of foreign Affairs of Sweden Carl Bildt, a CIA agent, smashing any of those who criticized Putin, calling the Ukrainians fascists, and most blame him for what he is "Putin's Goebbels". Recently Kiselev tearing to pieces the Russian ultranationalists. They are quite long rampaged in the media, they are more tolerated than supported, in particular, Dmitry Kiselev.
Leading Saturday's version of "News" — 45-year-old and a much more liberal Sergei Brilev. For Christmas last year Sergey Brilev was with family in London, whence he wrote to me: "Hans-Wilhelm — bold (?) new (?) world. Greetings from London, where I rest from all this!" (Hans-Wilhelm — it is a brave (?) new (?) world. Greetings from England where I'm having a break from it all!). A few years ago Brilev told me that he Kiselev division of labor. Brilev must be a liberal, and Kiselev was supposed to be harder. Immediately after the tragedy on 22 July 2011 in Norway Brilev asked me a long interview.
At that time his boss was the Deputy head of the broadcasting Kiselev. For friends "Dima" and "Dmitry". He studied Norwegian in Leningrad in the days of the legendary Norwegian Professor Valeria Berkova. Burke wrote his famous Norwegian-Russian dictionary in my kitchen in Oslo in the early 1990-ies. At the opening of the Olympic games in Lillehammer in 1994, my friend Dima stood beside me and watched the stunning opening ceremony. Then he was a correspondent for Russian television in Northern Europe. He surprised said: "I know so well Norway. But for me, as the landscape only railway station with a bunch of houses around. And like you, the Norwegians, unable to organize the winter Olympics, is just mind-boggling!"
In the mid 1980-ies in the Scandinavian edition of Radio Moscow employed several young and brilliant journalists. Chief news teleporte "Ostankino" in charge of the news program "Time", was the name of Eduard Sagalaev. His father, Joseph Stalin eliminated as the so-called fist. Eduard Sagalaev scoured Moscow Radio and got to work on the TV speakers of Scandinavian languages of journalists. In addition to Dmitry Kiselev in Ostankino came speaking in Danish Alexander Lyubimov and created "the Look", which is a quarter of a century ago, 300 million Soviet citizens loved. Came also speaking in Norwegian Oleg Romanchenko (as in the original text. In fact, Andrey Romanchenko — approx. ed.) and Yury Akinshin. But in 1989, they are so tired of the censorship of the Communist party, so they moved to Norway. On Grefsenkollen (Grefsenkollen) in Oslo, they founded "Radio rocks", which was broadcast to rock music and criticism of the USSR in Russian. When came to power Putin, Andrei Romanchenko became the Deputy Minister of information, and Akinshin his right hand. They often spent a holiday at my dacha in Borre (Borre), and the Norwegian intelligence vigilantly watched. The eldest of the speaking Norwegian name was Yuri Rostov, it long time was the leading Soviet counterpart Dagsrevyen — the program "Time".
Dima loved to be in Norway. When on 19 August 1991 there was a coup against Mikhail Gorbachev, Dmitry Kiselev was in Oslo. We were all in shock, this morning I went to Moscow. Excited I called Dima and said, "Hansik, how can I quickly get the car home?" I explained to him that it is best by ferry to Tallinn and from there to blow straight home. Immediately after this he left the Soviet news program and said to me: "Tired of crawling on his belly in front of the Kremlin in order to interview Gorbachev!" For me to crawl there was no need, because I Gorbachev knew since 1975.
I was asked to give the welcoming speech on behalf of foreign journalists, when in the spring of 1991 opened or RTV Russian television. Boris Yeltsin has created a channel in protest against new restrictions introduced in the last year, when Gorbachev was in power. Soon Kiselev became the lead news program on the TV channel RTV. After working there for ten years, he broke it and became the head of the Russian-language news channel in Kiev. During the "orange revolution" in Ukraine in late autumn of 2004 Dima became the object of hatred of Ukrainian nationalists. Soon he began to criticize those who are also in the Ukrainian political flora, namely neo-fascists. In 2004, the demonstrators on the Maidan went with posters, the text of which was full of hatred to Kiselyov.
In 2005 Dmitry Kiselev returned to Moscow. Under Putin, he became a program Manager and Deputy head of broadcast. During the incident with the trawler Elektron in the area of Spitsbergen in 2005, when two inspectors of the Norwegian fisheries has been kidnapped and brought to Murmansk, Dmitry Kiselev likened the behavior of the Russian kidnapping, while in Murmansk, the press defended the aggressive behavior of the captain. I then took part in the program of Kiselyov. But, like many, Dima was destined to be strengthened by the presumption that preferred to cultivate Vladimir Putin. It became a kind of Overture to the aggressive nationalism that began to spread after Putin in 2012 for the third time became President.
Dima's been my friend, gave me an interview for the programme Dagsrevyen NRK Urix and on, and then he did his most radical statements. But on its own television he became increasingly negative towards liberal values — he attacked punk group Pussy Riot. However, 80% of Russians were supported. Sexual minorities, USA, NATO and the EU — got it all.
Dmitry Kiselev fully supported the military intervention in Crimea in February 2014. In spring 2014 he appeared in "black list" of the US and the EU. At that time Dima had pre-paid fishing Lodge in Northern Norway for a holiday with his wife Mary, a psychologist, and their two sons. I casually asked another friend, the then and current Ambassador Ladelfa Namtvedt (Leidulf Namtvedt), is it possible to do something to "save" a vacation? Vacation, however, was doomed.
Since then, so pleasant to the Dima and publicly so aggressive on Putin's TV Kiselev is in the "black list". I myself when Brezhnev was pursued by a journalist, in principle I don't like — no matter what — when States make a journalists "black list". But I can support, not all of what my friend Joe today gives for his description of reality. And if I need to remind my old friend Dmitry Kiselyov about some Russian words, then let it be the words of Alexander Pushkin: "Darkness low truths dearer to me than we elevates deception!" (so in the text of the original article. In fact: "Darkness low truths I have more exalts deception" — approx. ed.).
Hans-Wilhelm, Steinfeld (Hans-Wilhelm Steinfeld) — candidate of philological Sciences, associate partner in Corporate Communications
Comments
comments