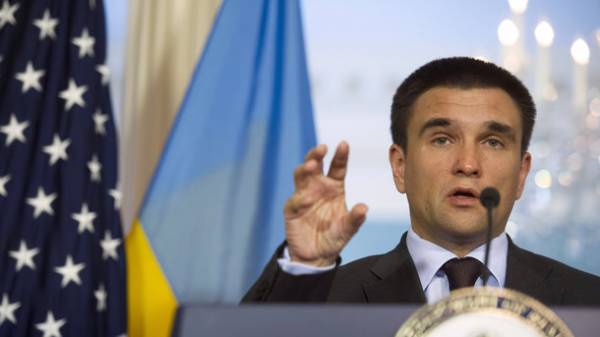 The Minister of foreign Affairs of Ukraine Pavlo Klimkin urged U.S. senators to provide assistance in providing Ukraine defensive weapons.
He said this during the Senate hearings of the Subcommittee on Finance and Department of State foreign operations and related programs Committee on appropriations United States Senate.
"All the signals from the new U.S. administration gives us great hope that the United States support for Ukraine will continue and deepen," said Klimkin.
In this regard, he said that further support concerns not only the interests of Ukraine and for U.S. interests from the standpoint of freedom and stability of the wider transatlantic Alliance.
For this reason, he appealed to the members of the Subcommittee on granting Ukraine direct support in a number of areas.
"The United States supply defensive weapons and further military and technical support will be a powerful signal to the Kremlin and will significantly improve Ukraine's ability to defend its territory against the Russian army", – said Klimkin.
He also said that the support of the United States has already demonstrated its effectiveness.
However, the Minister asked the senators to support funding for assistance to Ukraine in the security sphere in this and the next fiscal years.
"Ukraine also requires a long-term security measures for closer cooperation and interaction in the sphere of defense and security," – said Klimkin.
"Without a doubt, we need the support of the United States for the resumption of negotiations of the signatories of the Budapest Memorandum. The United States must play a key role in the negotiations at the same time against the Donbass and the Crimea", – said the Minister.
"And while Russia is not out of the Ukrainian land should not be the easing of sanctions," said Klimkin and added that if Russia will not do anything, the sanctions should be strengthened.
Comments
comments