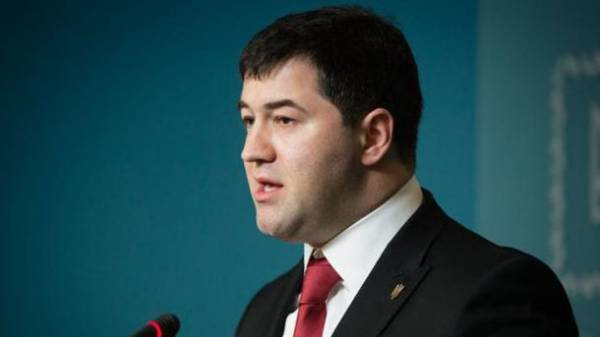 Lawyers are not satisfied with the decision of the court in Nasirova and will appeal.
It was declared to journalists after court session an attorney for Nasirova Andrey Kuzmenko.
"Of course, we are not happy because we think this decision is illegal and illegitimate. His position we will defend in the courts of Ukraine and the European court of human rights", – said the lawyer.
He also expressed doubt that Nasirov is UAH 100 million bail and stressed that all of its funds, the Chairman of the SFS has declared, and this amount is much less than UAH 100 million.
Defender Nasirov added that the head of the SFS will not pay a Deposit until the court of Appeal. "We have 5 days to appeal the decision of Solomensky court. As far as I know, the money at the moment will not be introduced. Nasirov expressed his desire to appeal against the decision of the court of appeal".
In addition, the lawyer said that the defense will try to translate Nasirova from the remand prison to hospital "Feofania". He explained that because his client is still not discharged from the "Theophany", he is patients. "I think that now again what was the day before yesterday, when Nasirov for 4 hours and rolled all brought in "Feofaniya". I'm sure. now what difficulties arise in respect of delivery to prison because he is patients. However, I do not exclude that this issue will be resolved by phone calls," – said Kuzmenko.
Answering the journalists ' question about British passport Nasirov's lawyer said that such a document his client is not, and generally have no passports, but Ukrainian, but because he has nothing to surrender, but Ukrainian documents.
Also the lawyer added that he and his colleagues will accompany Nasirov in jail and try to prevent placing it there, as they will not disturb the decision of the court, which determined his stay in the detention center. "We are in no way going to influence the detectives NAB and power structures. And we have no right to do it, as there is a court ruling that entered into legal force".
We will remind, the judge of the Solomyansky district court of Kyiv Alexander Bobrovnik on the night of March 7, partially granted the petition of the investigating authorities, having elected for the President of the SFS of the Roman Nasirov measure of restraint in form of detention for a period of 60 days, until April 30, 2017, with the possibility of bail in the amount of UAH 100 million.
The prosecution demanded bail in the amount of 2 billion UAH. Thus, the court reduced the amount of the Deposit 20 times.
Comments
comments