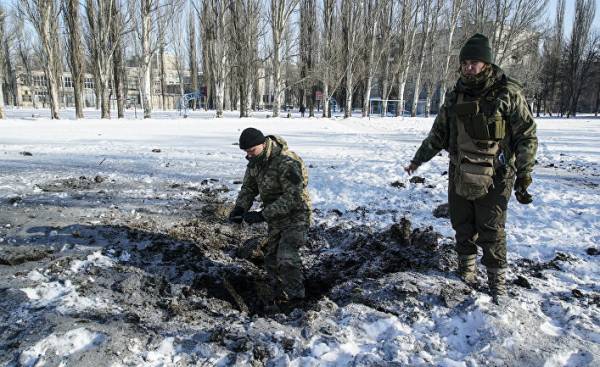 The highest judicial body of the UN starting Monday the consideration of charges of supporting terrorism, which put forward Kiev against Moscow.
Kiev hones their arguments. On March 6, Ukraine will try to convince the highest court in the UN that Russia supports "terrorism" in the conflict with Pro-Russian separatists, who is now raging in the East of the country.
It requests the international court of justice to take urgent measures to ensure that Moscow has stopped supporting the rebels (with money, arms and people) and "discrimination" of minorities in the annexed Crimea. In addition, the Ukrainian side demands compensation for the damages she claims were inflicted on the civilian population in almost three years of conflict. Moscow in turn has always denied the fact of transfer of weapons to the rebels, claims that the case is motivated by political interests, and criticizes the reluctance of the Ukrainian institutions to conduct a comprehensive dialogue to resolve the situation.
Ukraine sent a request to the Hague-the court in mid-January. According to her, Russia has not made sufficient effort to find a way out of conflict and new negotiations would be futile. A rare meeting of presidents Petro Poroshenko and Vladimir Putin in recent months has been "fruitless", said Thursday the administration of the Ukrainian leader.
According to the representative of the Russian Embassy, at a hearing in court four days can be "broad delegation" of about 35 people, which included including representatives of various departments, experts and lawyers. The international court of justice was established in 1945 for the settlement of interstate conflicts. Now the highest court of the UN should take a decision on further proceedings. In addition, the 15 permanent judges will need to make a decision on requested by the Kiev measures. Whatever it was, the court's decision, of course, is mandatory and peremptory, but it is unlikely to affect the situation on the ground.
The trial commenced on the increasing fighting between the Ukrainian army and Pro-Russian rebels in early February on the front line of the Kiev-controlled Avdiivka killing 35 people. In the East of Ukraine almost three years does not stop the conflict, which led to a cooling in relations between Russia and the West. From the beginning of April 2014, it has claimed the lives of more than 9 thousand 600 people.
Comments
comments