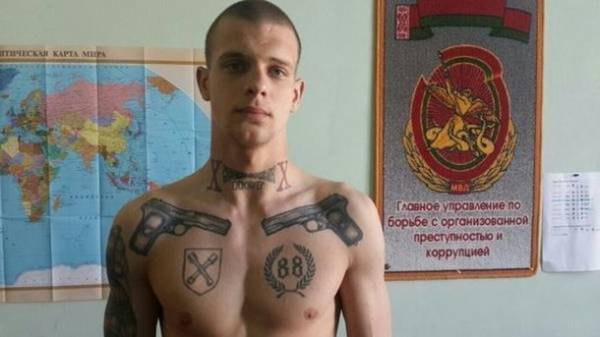 Court of Belarus sentenced the resident of Vitebsk, a former soldier of the Ukrainian battalion "Azov" Stanislav Goncharov to seven years in prison for "hooliganism" and inciting racial, national or religious hostility or discord and robbery, said assistant to the President of the court in an interview to BelaPAN.
20-year-old Goncharov was arrested in April 2016, when he returned to Belarus after service in the battalion "Azov" on the side of Ukraine, where he allegedly served under the Callsign Belarusian.
"The court recognized Goncharova guilty of robbery committed by a group of persons, intentional acts aimed at incitement of racial, national enmity and hatred, desecration of monuments to the defenders of the Fatherland, possession with intent to distribute the pornographic videos made using the global computer network Internet, malicious and especially malicious hooliganism", – writes the edition.
On set of crimes Goncharov sentenced to imprisonment for a period of seven years to be served it in the colony under strict regime.
On 27 February, the court of Mariupol in the Donetsk region detained another Belarusian volunteers, who took part in the fighting in the Donbass on the side of Ukraine, Igor, Klevko on suspicion of kidnapping and murder.
We will remind, the armed conflict in Eastern Ukraine began in April 2014. Fighting underway between the Armed forces of Ukraine and Pro-Russian rebels who control part of the Donetsk and Luhansk regions.
Comments
comments