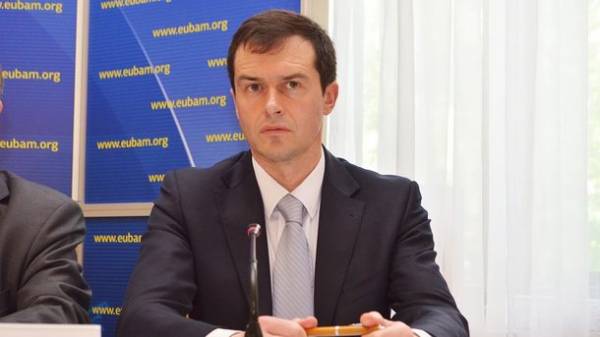 The Director of the Department of European Union Ministry of foreign Affairs Vsevolod Chentsov said that the EU needs to change the model of relations with Ukraine. He said this during a conference "Results of the implementation of the Association Agreement between Ukraine and the EU in 2016 and the plans for 2017".
According to Chentsova Ukraine in developing relations with the EU has become hostage to many of the internal problems of the European Union.
Referring to the agreement on common aviation area, the diplomat said it was "stuck due to some problems between – again – member countries". The diplomat believes that it is necessary to seek a way out of this situation.
"The same with energy. That is, for us, incomprehensible situation, when important issues concerning energy infrastructure and influencing the situation in Ukraine, on deliveries, on our energy balance, but they are being resolved without us, and we just put before the fact that the European Commission took such a decision, which is the only correct one. That might be true. I mean OPAL. But we have to be in the process," said Chentsov.
In addition, he noted that it is also about the attitude to Ukraine.
"We now, for example, grew out of those pink, probably pants just policy object to the European Union. That is, we claim, and there is every reason for us to have some, if not equal, but a serious dialogue," said foreign Ministry spokesman.
He also confirmed that the Association Agreement between Ukraine and the EU is very important for Ukraine, and it has to carry out reforms.
"But it is no less important for the European Union to include the issue of Ukraine. Especially in this difficult situation, when the European Union will be forced to reform itself. That is what will be the future relations with such countries as Ukraine? Perhaps the model should be slightly different, and there should be a balance of obligations, as regards the Association Agreement, as regards the Energy community. That is, the changing pattern of relations, changing attitudes and moving away from that a little paternalistic approach," the diplomat said.
He is convinced that now is the time to talk about it and to do it. According to him, the fall summit "Eastern partnership" will be held and bilateral activities, and in particular, the summit Ukraine-the EU and the Council of the Association.
However Chentsov said that calls for the confrontation of debate. In his opinion, the discussion should be Frank, honest and interested in the result.
Earlier edition of The National Interest wrote that revanchist Russia successfully uses the differences in the West.
Comments
comments