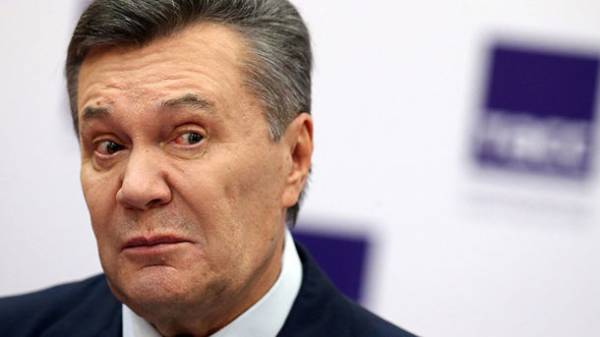 The ambassadors of the member countries of the European Union decided to extend sanctions on ex-President of Ukraine Viktor Yanukovych and his associates for another year.
About this was announced today in the EU Council after the meeting. "The decision was made against 15 people," – said in the Council. Tomorrow this decision will be approved by the Council of the EU, with the publication in the Official journal on Saturday.
As reported, on 6 March 2014 the EU imposed sanctions in the form of freezing of assets against the Ukrainian former officials of times of Yanukovych's presidency for abuse of public finances and human rights violations. The last time sanctions were extended a year ago.
In particular, in the sanctions list are, together with Yanukovych, former Premier Mykola Azarov, former interior Minister Vitaliy Zakharchenko, former Prosecutor General Viktor Pshonka and his son Artem, former Minister of justice Elena Lukash, the former head of the AP Andriy Klyuyev and former MP Serhiy Klyuyev, a former Deputy Minister of internal Affairs Victor Ratushnyak, former first Vice Prime Minister Serhiy Arbuzov, former Minister of income and fees Alexander Klimenko, former energy Minister Eduard stavytsky, former Minister of education Dmitry Tabachnik, the oligarch Sergey Kurchenko.
The ex-the Deputy Yury Ivanyushchenko excluded from the list.
As reported, on 28 February the General Prosecutor of Ukraine Yury Lutsenko reported that the Supreme court closed all criminal proceedings on Ivanyushchenko. Lutsenko said that it happened before the decision on the extension of European Union sanctions against former Ukrainian President Viktor Yanukovych and his associates.
In the Supreme court of Ukraine of March 1, stated that "didn't make the decision on closing of criminal proceedings concerning Ivanyushchenko, and therefore extended on the issue, the information is untrue".
Later in the Ukrainian Interpol Bureau said that until not received an official court decision on closing of criminal proceedings against Ivanyushchenko.
Comments
comments