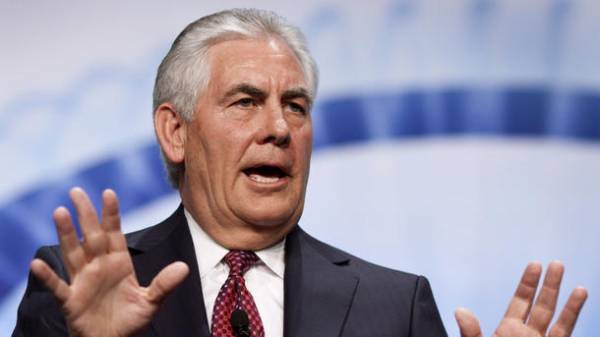 Washington will continue to work on the promotion of their interests in the world with partners and allies, including together with NATO, said on Wednesday U.S. Secretary of state Rex Tillerson.
"The state Department will continue to work to advance U.S. interests in the world together with our partners and allies," – said in a statement us Secretary of state.
"We will also continue to support policies and institutions that ensure the safety of Americans, including a strong NATO Alliance in which the allies fulfill their obligations, as well as the immigration process, in the course of which the selection of those who come to our country, and secure the borders and ports of entry," notes Tillerson.
"We will work with allies to stand against Nations that threaten their neighbors or destabilisateur their regions. American foreign policy must promote our values – freedom, democracy and stability," he concluded.
Earlier, Vice-President Michael Penny said the us President Donald trump expects the results to increase military spending of member countries of NATO to the end of the year. This was stated at a press conference with NATO Secretary General Jens Stoltenberg in Brussels, reports "European true".
"America will do its part, but the European defense needs in favor of European countries as well as our…President trump is awaiting the results from the 27 member countries of the Alliance until the end of the year," said Pence.
Comments
comments