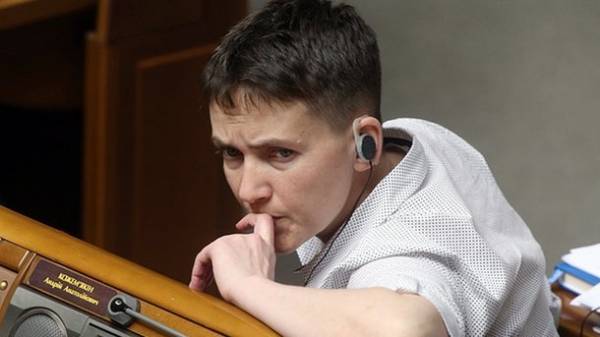 Statement of people's Deputy of Hope Savchenko on the release of prisoners are provocative, and some destabilisateur the situation in the country. This was told on air of radio station "Voice of Capital" the adviser to the head of the SBU Yuriy Tandit.
In SBU believe statements Savchenko provocative.
"Unfortunately, Ukraine's hopes that were associated with the actions Savchenko, was not justified. Her statements are quite provocative. At the briefing, it called on Ukrainian citizens to the violent overthrow of the government. This is only destabilizie the situation in the country," said Tandem.
He commented on her statements about the transition of the "goat trails" through the line of contact in the territory controlled by the militants.
"She, at least, violates the requirements, which are in the combat zone. But most importantly, it risks the lives of our children, the soldiers who defend Ukraine's territorial integrity. Imagine her lock from the other side, starts, God forbid, some kind of clash. She risks the life of guys. On the other hand, it has issued an official badge, she could cross legally, under the current law the line of contact. She deliberately makes provocative statements," – said adviser to the head of the SBU.
Tandem urged the MP to work together with the security forces in the issue of release of prisoners
"I repeatedly asked her to with us act together, because we never banned the release of the hostages. Moreover, we help different public figures — politicians, the volunteers, many nameless heroes who work every day and help us in the process of freeing the boys. This is very important. In this case, provocative statements," he added.
We will remind, on February 24, Nadezhda Savchenko went to ORDO, where, with the assistance of the militants in the presence of Russian journalists , she met with the Ukrainian prisoners.
Comments
comments