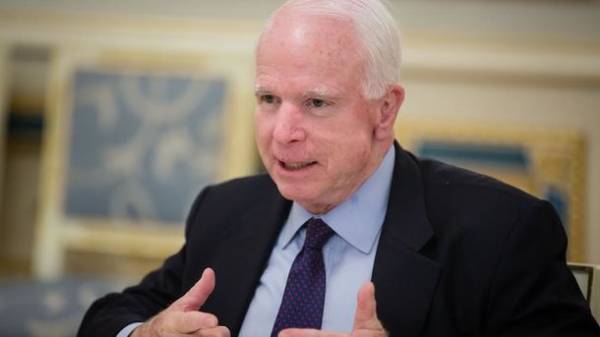 Influential Republican Senator John McCain called the murder of ex-Deputy of the state Duma of the Russian Federation Denis Boronenkov another act of unabashed state terrorism of Russia. This is stated in the message on the website of McCain – reports 112.ua.
"Today, in yet another brazen act of state terrorism, Russia in broad daylight in Kiev was killed by the MP Denis Voronenkov. A terrible crime is a continuation of the campaign in the style of the KGB to intimidate everyone who is in opposition to the tyrant Vladimir Putin," McCain wrote.
The Senator noted that Voronenkov opposed to the Putin regime, his illegal invasion of Ukraine and annexation of Crimea. He also assisted prosecutors in the investigation of treason, ex-President of Ukraine and the "Putin puppet" of Yanukovich. "Sorry, Denis Voronenkov was another man, who, like Sergei Magnitsky, Boris Nemtsov, paid with his life for telling the truth in Putin's Russia", – said McCain.
The Senator said his thoughts are with the wife of the deceased MP Maria and their children. He expressed the hope that they will find solace and be proud of the courage and bravery of their loved one.
We will remind, on March 23 in Kiev in the shooting death of a former member of the Russian state Duma Denis Voronenkov, who took Ukrainian citizenship and testified against fugitive President Viktor Yanukovych.
It is known that the killer Boronenkov died on the operating table.
Kiev police registered a "murder" part 2. article 115 of the criminal code, but may then be taken other decisions, and other authorities will investigate this crime. Also the case is already transferred to the city Prosecutor's office.
Comments
comments