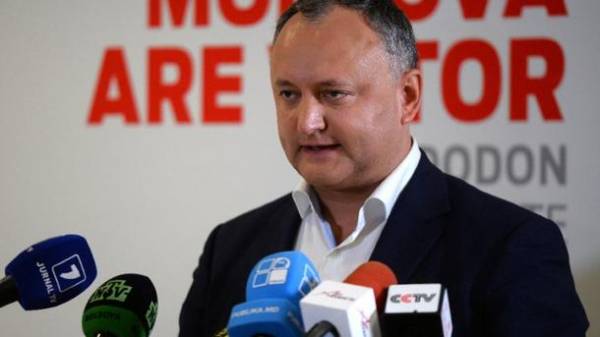 A Pro-Russian President of Moldova Igor Dodon 28 February submitted a bill of amendments to the Constitution, which aims at the expansion of presidential powers. It is reported NewsMaker, perday "Ukrainian truth".
"The President at the briefing said that he needs additional controls over the activities of the Parliament", – stated in the message.
"And besides, according to him, most of the Moldovan citizens believe the country is headed in the wrong direction, and advocate for early parliamentary elections", – said NewsMaker.
The publication notes that he wants "to add balance between all branches of government" and plans to amend article 85 of the Constitution on dissolution of Parliament.
He, in particular, proposes to allow the President to dissolve Parliament after consultations with the parliamentary factions.
"The right to dissolve the legislative body the President must obtain, if Parliament has not adopted the budget within two months from the beginning of the tax year," continues NewsMaker.
"Bill will be submitted to Parliament. If on March 24, the initiative will not gain the 34 signatures, we will start the revision of the Constitution based on popular initiative", – quotes the edition of Dodona.
While the Moldovan Constitution stipulates two options for the dissolution of Parliament. The President may dissolve Parliament, if he be incapacitated: three months to block the adoption of laws or will not be able to form a government.
If the Parliament within 45 days would not give a vote of confidence in the Cabinet, it will be dissolved.
At the same time for 45 days, the Parliament has twice rejected the candidacy of the Prime Minister.
Earlier, Igor Dodon said that the Transnistrian issue will be resolved in a national referendum.
Comments
comments